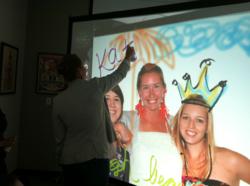 The Virtual Graffiti Wall was a hit at our daughter's Bat Mitzvah. Adults and kids all jumped in to create their works of art and our guests had a total blast! - Kim W., West Bloomfield, MI
West Bloomfield, MI (PRWEB) November 21, 2012
Most weddings and Bar/Bat Mitzvahs have a photo booth these days. Although fun, they have lost their wow factor. Game Crazy is bringing back the wow at weddings and Bar/Bat Mitzvahs all throughout metro Detroit Michigan with their Virtual Graffiti Wall.
So what exactly is a Virtual Graffiti Wall? Why is it better than renting a photo booth? A Virtual Graffiti Wall is a little like a photo booth, but our customers can do so much more with it. For starters, our customers take a photo of a group of people which instantly gets uploaded to the large screen. Armed with digital spray cans (no real paint inside these cans), people can then draw and write all over the wall and create digital graffiti over the photo.
The Graffiti Wall software can change up the background of the photo to make it more fun. Then, using built-in stencils and clip art libraries, people can paint in all sorts of fun and goofy props like crowns, hats, mustaches, dresses, beards, ties, wigs and more!
Once the masterpiece is complete, it can be instantly printed to take home as a keepsake or shared online with friends via Facebook and email. Customers can also take home a step-by-step video of exactly how the painting was done.
Game Crazy is proud to bring the Virtual Graffiti wall and other highly unique party games right to people's doorstep.
Game Crazy's climate controlled video game truck with 6 large LCD TVs, the latest video game consoles, surround sound, laser lights and fog machines is gaming utopia for video game fanatics!
They can also set up an entire laser tag field right in people's backyard complete with bunkers and smoke grenades! Challenging game play variations illustrates the importance of strong team ethics, encourages critical thinking and provides leadership opportunities for participants.
Human Hamster Balls, Real life Angry Birds, Water Tag and Candy Cannon (a gun that shoots out candy!) are some of the other fun and unique games that kids will love. Free party invitations and thank you cards make party planning a breeze.
"Our mission is to create a rock star birthday party for kids while making it super convenient for moms", said Suman Chaudhuri, Chief Happiness Officer at Game Crazy.
They can do indoor and outdoor parties in the summer and winter and their offerings will constantly be updated, so there is always something new for parents and kids to try out.
To learn more about Game Crazy, or to party like a rock star, please visit http://www.gamecrazyparty.com or call 1-888-55-GAMECRAZY (554-2632).