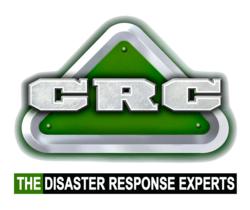 "CRC helps families and businesses in distress, we pride ourselves on our dedication to help, allowing CRC to be ranked #1 for three consecutive years," states general manager, Chad Price.
Apex, North Carolina (PRWEB) November 21, 2012
With Thanksgiving right around the corner, CRC wants to make this seasons holidays memorable. CRC contributed more than 1000 turkeys to families throughout NC. These families can now enjoy a Thanksgiving dinner with their loved ones without the worry of supplying a turkey. The CRC team has been handing out turkeys throughout the month of November to many thankful individuals. These Butterball turkeys are donated by CRC, whom hopes to complete a family's holiday meal and bring families closer together.
CRC is headquartered in Apex, North Carolina. It is North Carolina's largest restoration company and is the 4th largest in the United States. CRC has more than 42 years of experience in fire, smoke, water and mold damage. CRC provides 24/7 emergency response. Starting in 1969 with just a handful of employees, CRC has grown into a full service operation. "Our focus and dedication to those in need has allowed CRC to become a preferred contractor for every major insurance company and rank #1 three years in a row with several national publications," claims Chad Price, a CRC manager. CRC was recently ranked #1 in restoration and 20/50,000 top businesses by Business Journal Magazine.