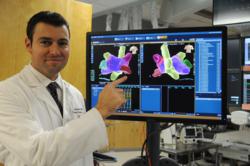 Youngstown, OH (PRWEB) November 21, 2012
St. Elizabeth Health Center opened its cardiovascular lab this afternoon for a tour showcasing technology that makes a new procedure – atrial fibrillation ablation – possible.
The new equipment is the most advanced technology available, enabling physicians to treat the most common heart arrhythmias – atrial fibrillation – using catheter ablation, a procedure that provides for better outcomes than anti-arrhythmic drug therapy, according to Dr. Lee Gemma, a cardiac electrophysiologist who performed the first atrial fibrillation ablation in the region at St. Elizabeth Health Center in September.
"Anti-arrhythmic drug therapy has provided symptomatic relief in many patients with atrial fibrillation, but radiofrequency catheter ablation of atrial fibrillation has emerged as an alternative method of treatment," Dr. Gemma says. "In head-to-head clinical trials of anti-arrhythmic drug therapy versus catheter ablation of atrial fibrillation, catheter ablation has been shown to be vastly superior."
While not all patients with atrial fibrillation are candidates for catheter ablation, making the option available will undoubtedly improve the outcomes and quality of life for many patients and their families.
St. Elizabeth Health Center is the only health care provider in the region offering catheter ablation as a treatment option for patients with atrial fibrillation. Before St. Elizabeth Health Center introduced it to the region, patients who could benefit from the procedure needed to travel to larger cities where the procedure has been available longer.
Tours of the cardio vascular lab featured an up-close look and explanation of the new technology that makes atrial fibrillation ablation possible. Dr. Gemma, who joined HMHP Physician Associates/Diagnostic Cardiology Associates this summer, was also present to greet visitors and answer questions.
About Humility of Mary Health Partners:
Humility of Mary Health Partners is an integrated health system located in the Youngstown/Warren area. It is a region of Catholic Health Partners (CHP) in Cincinnati, the largest health system in Ohio and one of the largest Catholic health systems in the United States. HMHP provides a full spectrum of health care services, including inpatient, outpatient, emergency, urgent care, home care and long-term care. Members are St. Elizabeth Health Center, St. Joseph Health Center, St. Elizabeth Boardman Health Center, HM Home Health Services, The Assumption Village, Humility House, Hospice of the Valley and Laurel Lake. Learn more about HMHP online at http://www.HMpartners.org. ###