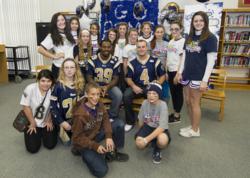 "Rogers Middle School is a perfect example of how Fuel Up to Play 60 can really have an impact. It is great to see their passion for the program."
Saint Louis, Missouri (PRWEB) November 20, 2012
Rogers Middle School celebrated winning the Fuel Up To Play 60 National Touchdown Dance Challenge today, Nov. 20, with a visit from St. Louis Rams running back, Steven Jackson, and kicker, Greg Zuerlein. Rogers' students Reja Franklin and Maria Stoencheva helped their school earn national recognition by submitting a video of their signature touchdown dance to FuelUpToPlay60.com. Their dance received the most online votes among four other finalists from across the country. As a part of their reward, Reja, Maria and a team of Rogers students got the chance to teach Steven and Greg their winning dance at the all-school assembly, followed by a question-and-answer session with the school's Fuel Up to Play 60 student team.
Fuel Up to Play 60 is an in-school nutrition and physical activity program provided in partnership with Midwest Dairy Council and the Saint Louis Rams that encourages students to eat healthy, be active and implement positive, healthy changes at school.
"The students were so excited to host Steven Jackson and Greg Zuerlin here at Rogers," said Kathy Beezley, Fuel Up to Play 60 program advisor for Rogers Middle School. "We want to thank the St. Louis Rams for their help in rewarding our students for their hard work and enthusiasm for Fuel Up to Play 60 – it means so much to them."
In addition to the National Touchdown Dance Challenge, Fuel Up to Play 60 has several other Challenges that youth can get involved in throughout the year. Each Challenge focuses on a different aspect of the program and provides the opportunity for students to collaborate with their peers to showcase what they have learned about "fueling up" with nutrient-rich foods, like fruits, vegetables, whole grains and low-fat and fat-free dairy foods, and "playing" for at least 60 minutes every day.
"We enjoyed rewarding Rogers Middle School for their efforts – to Reja and Maria for entering the Touchdown Dance Challenge and the rest of the students and staff for showing their support by voting," said Courtney Corbett, Midwest Dairy Council program manager. "Rogers Middle School is a perfect example of how Fuel Up to Play 60 can really have an impact. It is great to see their passion for the program."
To view Rogers Middle School's winning submission and learn more about Fuel Up to Play 60, visit http://www.FuelUpToPlay60.com.
###
Midwest Dairy Council®, an affiliate of National Dairy Council, is the nutrition education division of Midwest Dairy Association. The Council is dedicated to dairy nutrition research and education through the investment of more than 9,500 dairy farm families across 10 Midwestern states, and is committed to child health and wellness through our collaborative program, Fuel Up to Play 60. For more information, visit http://www.midwestdairy.com.