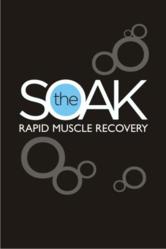 Phoenix, AZ (PRWEB) November 22, 2012
Body2Build/Shawn Bellon are excited to announce teaming up with Soak Fitness.
Soak Fitness is dedicated to creating innovative and effective ways for athletes to recover quickly and enhance their performance. Soak Fitness believes the recovery process is too often overlooked by athletes and our goal is to change that.
Hailing from the Midwest, Shawn developed the "iron bug" at the age of 11. After finding an old Flex magazine he became hooked, scavenging his hometown looking for weights to take home. He wanted to train, and it was evident early on that he was a prodigious lifter. As a junior in high school, and weighing only 194lbs, he was squatting 645lbs.
After earning his degree at Taylor University in Education, with a minor in Philosophy, Shawn has since went on to become a certified personal trainer, strength coach, and specialist in corrective exercise. He has over 20 years of experience under his belt, and has been coached by some of the world's best powerlifters.
Shawn is currently an American and World Record Holder (ranked 6th in the world), and has consistently set raw totals of over 1900lbs, while weighing in at 260lbs. He has been featured in Powerlifting USA, Muscular Development, and Super Human Radio. In addition to being the writer of X-fit, a monthly column in Iron Man magazine, Shawn is also a contributing writer for Powerlifting USA. He is currently training to set the all time raw record for any weight class this coming fall.
Shawn believes that strength is fundamental for all bodies stating, "I've never met a human being that desired to be weaker."
Look for more information in the weeks to come as Shawn represents Soak Fitness.