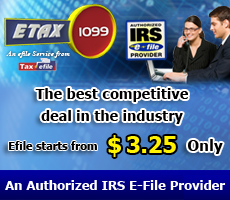 (PRWEB) November 20, 2012
Tax2efile is recognized as an industry leader in e-filing services. With and easy to use website and live customer support from an experienced and well trained staff Tax2efile is always offering their customers the best experience possible. Filing is easy with the improved e-filing system and takes only a few minutes to complete filing.
New to these services is the e-filing of Form 1099-K and Form 1098-T available at http://www.Etax1099.com and http://www.Etax1098.com.
Form 1099-K is used for the following:
A payment settlement entity (PSE) must file Form 1099-K, Merchant Card and Third Party Network Payments, for payments made in settlement of reportable payment transactions for each calendar year. A PSE makes a payment in settlement of a reportable payment transaction, that is, any payment card or third party network transaction, if the PSE submits the instruction to transfer funds to the account of the participating payee to settle the reportable payment transaction.
Form 1098 is used for the following:
Mortgage Interest Statement, to report mortgage interest (including points, defined beginning on page 2) of $600 or more received by you during the year in the course of your trade or business from an individual, including a sole proprietor. Report only interest on a mortgage defined on this page.
Form 1098-T is used by educational institutions to report payments of financial aid as well as aid reimbursement.