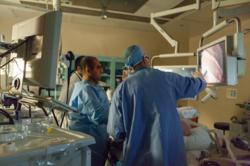 With a closer view of the lining of the GI tract, we have more information to help us guide biopsy and treatment decisions in real time.
Sioux Falls, SD (PRWEB) November 26, 2012
Sanford Health physicians are using the world's smallest microscope during endoscopies to view internal tissues at the cellular level in real time. Studies have shown that having this cell-by-cell view of the lining of the gastrointestinal (GI) tract and lungs can lead to improved detection and faster treatment of abnormalities, such as cancer, in those areas.
Sanford is the first in the region to offer this new advanced imaging, which is known as Cellvizio. The technology is part of the GI and pulmonary programs at Sanford. A procedure done last week was the inaugural use of Cellvizio at Sanford.
"Until now, if we find abnormal tissue during an endoscopy we sample the area and send it off to pathology for analysis," said Lee Austin, MD. "Sometimes that biopsy sample does not reflect the changes seen on endoscopy. Patients then must come back at a later date for additional procedures, either for more sampling of the area or a therapeutic procedure. With Cellvizio we have the ability to visualize the tissues in real time and, therefore, better target our biopsy sites and make decisions about therapies in real time."
A growing body of published clinical data shows that by adding Cellvizio to colonoscopies, endoscopies and a standard pancreatic and bile duct exam, physicians have been able to more accurately differentiate cancerous and pre-cancerous changes in tissue. In some cases, physicians have been able to perform minimally invasive treatments for conditions that traditionally required major surgical operations because of the improved view and understanding of the tissue.
To use Cellvizio, the tiny microscope is threaded through a traditional endoscope like a catheter or biopsy forceps while the patient is having an endoscopy. The microstructure of the digestive tract appears in real time on the screen under the administration of a contrast agent called fluorescein, allowing the physician to recognize typical features of healthy and diseased tissue. It adds only a few minutes to the standard endoscopic exam and has a proven safety record with no adverse events reported in thousands of cases.
"With cellular-level views, we have more visual information about internal tissues at the patient's bedside than ever before," said Muslim Atiq, MD, who used Cellvizio last week at Sanford. "The technology allows us to be more purposeful in removing abnormalities we might see in the GI tract or lungs."
Sanford is one of about 50 centers in the United States using the Cellvizio confocal probe. Cellvizio is approved by the U.S. Food and Drug Administration for use in the GI tract and lungs.
About Sanford Health
Sanford Health is an integrated health system headquartered in the Dakotas and is now the largest, rural, not-for-profit health care system in the nation with locations in 126 communities in eight states. In addition, Sanford Health is in the process of developing international clinics in Ireland, Ghana, Israel and Mexico.
Sanford Health includes 35 hospitals, 140 clinic locations and 1,200 physicians in 70 specialty areas of medicine. With more than 25,000 employees, Sanford Health is the largest employer in North and South Dakota. The system is experiencing dynamic growth and development in conjunction with Denny Sanford's nearly $700 million in gifts, the largest ever to a health care organization in America. These gifts are making possible the implementation of several initiatives including global children's clinics, multiple research centers and finding cures for type 1 diabetes and breast cancer. For more information, please visit sanfordhealth.org.
###