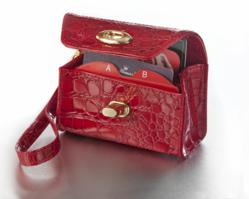 Orlando, Fl (PRWEB) November 22, 2012
Card Cubby reached inside of its Orlando community and out to give back to 3 fantastic causes this fall.
Card Cubby donated products to Making Strides Against Breast Cancer of Orlando Florida to help say thank you to the 45,000 walkers who raised almost $650,000 this year. The items were raffled off at a thank you event for participants.
"We think it's very important that local companies get involved and to show commitment to the community," Making Strides Against Breast Cancer manager, Christy Clelland said. "It's also important that local business get involved to bring awareness to their employees. I don't think anyone has gone untouched by cancer, and engaging employees shows their business is deeply invested in them and the surrounding community."
Wendy Krepak, founder and owner of Card Cubby, was also touched by two causes that were outside of her community, a medical center in Atlanta, GA, and a young child stricken with a heart condition in Minnesota.
Southside Medical Center Diabetes Education and Self-Management Program and Weight Management Program, is located in an under-served area of Georgia, where diabetes is a problem that affects people of all ages. The Southside Medical Center offers classes to help patients learn how to eat healthy on a budget.
"Each week, we provide coupons and instruct patients on how to obtain them," registered nurse and licensed dietitian at Southside Medical Center, Marsha Britton said. "We stress that keeping coupons with you is the number one goal to having a healthy and budget-friendly diet."
Card Cubby's donation helped their patients stay organized, on budget and eating healthy.
One of Card Cubby's fantastic fans, Mary Rude, reached out for a close friend, Kari Ulrich, whose family is going through a tough time.
"Cameron Ulrich was born June 15, 2006 with a condition that flipped his internal organs, however, only 2 of the 4 chambers of his heart had inverted," Rude said. "This meant half of Cameron's heart was beating at 130, and the other half was at 65 beats per minute."
This has led to Cameron having multiple surgeries with multiple pacemakers. He is currently listed in critical condition at the Mayo Clinic in Rochester, Minnesota.
"We have gotten many wonderful donations of gift cards for the family to use while they are staying at the Mayo Clinic in Rochester, MN," Rude said. "It would be great to fill a Card Cubby with these and deliver it to the Ulrich family to help keep them organized and in one place during this very stressful time."
Rude also plans to auction off Card Cubbies at a silent auction in support of the family.
Card Cubby understands the demands of their fans' budgets during this tough recession, and have always encouraged others to give back. Here are some easy ways to help your community this Holiday Season:
1. Participate in Small Business Saturday November 24th to help local businesses thrive.
2. Volunteer at a local soup kitchen or food pantry.
3. Visit http://www.donationtown.org/ for more local and national charities for you and your family to become involved in today.
To make sure your donations are being used correctly, visit http://www.charitynavigator.org/.
About Card Cubby ®
Card Cubby® is a growing brand focused on helping women Save in Style™. It offers innovative solutions that are fashionable and designed with the busy woman in mind. Started in 2009, Wendy Krepak has turned Card Cubby as a million-dollar business, with multiple products aimed at helping women be organized and save money. The Cubby CarryAll is currently available at CardCubby.com.