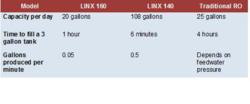 Gone are the days crossing your fingers that your RO can dribble out just enough to fill that last glass as your dinner company sits down to the table.
San Carlos, CA (PRWEB) November 20, 2012
As families across the country prepare for Thanksgiving this week, many are pre-filling water bottles and pitchers from their RO systems to ensure that there is enough filtered water to go around. Pionetics promises you that there are better ways to save time - and refrigerator space.
Jessen said "When designing our drinking water system, we recognized the limitations of even the best reverse osmosis systems on the market. RO systems, while very good at providing high-quality drinking water, are unable to provide a readily available supply, especially in peak water usage situations." In fact, a typical 3-gallon RO tank, if emptied, would not be filled and ready to go again for more than four hours! With the Pionetics LINX® Drinking Water System consumers are no longer left waiting on the coattails of their RO unit, as it slowly refills its tank after each use. As H. Martin Jessen, Vice President of Pionetics Corporation explains, That same 3-gallon tank that took 4 hours to fill with RO would be full in just 6 minutes with the LINX 140 Drinking Water System.
LINX represents the first real advancement in the drinking water technology in 30 years. Gone are the days of pre-filling jugs of water only to have them take up refrigerator space, crowd out the turkey, and waste your time. Now, consumers simply use water as needed.
While Thanksgiving is only days away, holiday entertaining doesn't end there. Hanukkah, Christmas, New Years all follow, along with all those holiday parties. Once the gifts and decorations have been put away, summer will be right around the corner and it will be time for BBQ's and picnics. A LINX Drinking Water System will ensure you have virtually unlimited RO-quality water right at your fingertips, no matter the demand.
Unlike other systems, LINX employs the basics of ion exchange technology, but uses electricity for regeneration rather than salt or other chemicals. LINX offers programmable water treatment technology that allows consumers to not only dial their taste preferences while conserving considerably more water over RO, it also saves a considerable amount of time. The accompanying graphic illustrates how the LINX system saves both time and money over a traditional RO.
For more information, visit the website http://www.linxwater.com/products/water-filters/.
Pionetics is currently signing new distributors and dealers. Anyone interested in the LINX technology, or in becoming a distributor or dealer anywhere around the world, should contact H. Martin Jessen at 480-836-0887.
About Pionetics Corporation:
Pionetics is an innovative water technology company that develops smart water treatment products that produce great tasting, safe drinking water with less wastewater than traditional water treatment systems. Pionetics is privately owned and financially backed by Kline Hawkes & Co, NGEN Partners, and Unilever Technology Ventures Fund.
Pionetics is located in San Carlos, CA. To date, Pionetics has been issued over 50 patents worldwide to protect its proprietary know-how and innovative technology.
Contact: H. Martin Jessen
480-836-0887
mjessen(at)pionetics(dot)com