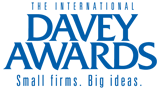 There are so many factors that go into the creative process behind any hotel website or online marketing campaign. HeBS Digital works closely with its clients during this process, providing the creative direction necessary to achieve cutting-edge designs
New York, NY (PRWEB) November 21, 2012
HeBS Digital, the leading digital marketing and direct online strategy firm for the hospitality industry, has been recognized by the International Academy of Visual Arts with five Davey Awards in website design, online advertising and social media categories, including a Gold Award for the Revere Hotel website.
HeBS Digital received the following 2012 Davey Awards in the Hotel/Lodging Category:
Gold Award
o Revere Hotel website
Silver Awards
o Casa Moderna Miami website
o Le Parc Suite Hotel website
o Shell Vacations Hospitality Black Friday minisite
o BNP Paribas Facebook Sweepstakes
"There are so many factors that go into the creative process behind any hotel website or online marketing campaign. HeBS Digital works closely with its clients during this process, providing the creative direction necessary to achieve cutting-edge designs while making sure functionality is never compromised. We are honored to have won these awards and to share them with our clients" said Max Starkov, President and CEO of HeBS Digital.
With nearly 4,000 entries from across the US and around the world, the Davey Awards honors the finest creative work from the best small firms, agencies and companies worldwide. Judges include the "who's who" of acclaimed media, advertising, and marketing firms. Entries are judged to evaluate distinction in creative work.
"We're delighted with our new website. Le Parc Suite Hotel just underwent a multimillion dollar renovation to all of our rooms and public spaces. The new look of the hotel is contemporary, sophisticated, elegant and tasteful, and now we have a website to match" said Ira Kleinrock, General Manager of Le Parc Suite Hotel.
About HeBS Digital:
Founded in 2001, HeBS Digital is the industry's leading full-service hotel digital marketing, website design and direct online channel strategy firm based in New York City (http://www.hebsdigital.com).
HeBS Digital has pioneered many of the "best practices" in hotel digital marketing, social and mobile marketing, and direct online channel distribution. The firm has won over 220 prestigious industry awards for its digital marketing and website design services, including numerous Adrian Awards, Davey Awards, W3 Awards, WebAwards, Magellan Awards, Summit International Awards, Interactive Media Awards, and IAC Awards.
A diverse client portfolio of top tier major hotel brands, luxury and boutique hotel brands, resorts and casinos, hotel management companies, franchisees and independents, and CVBs are profiting from HeBS Digital's hospitality digital marketing expertise. Contact HeBS Digital's consultants at (212) 752-8186 or hsuccessz(at)hebsdigital(dot)com.
About The Davey Awards:
The Davey Awards exclusively honor the "Davids" of creativity, the finest small firms, agencies and companies in the world. David defeated the giant Goliath with a big idea and a little rock -the sort of thing small firms do each year. The annual International Davey Awards honors the achievements of the "Creative Davids" who derive their strength from big ideas, rather than big budgets. The Davey Awards is the leading awards competition specifically for smaller firms, where firms compete with their peers to win the recognition they deserve. Please visit daveyawards.com for more information.