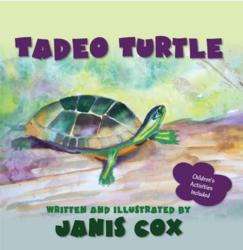 "t is exciting to see the growth of Canadian literature and to be able to provide an outlet for the sale of these wonderful books"
New York, NY, Chicogo Ill, Los Angeles, California (PRWEB) November 22, 2012
The new online art gallery, Made In Haliburton, announces the addition of 4 new books to their literary art collection. Owners Don & Marie Gage state, "it is exciting to see the growth of Canadian literature and to be able to provide an outlet for the sale of these wonderful books". The subject matter of the books is quite varied showing eclectic interests amongst the artists associated with Made In Haliburton.ca.
The books are also appropriate for a wide range of ages, with the most recent book, Tadeo Turtle, being an exciting potential Christmas present for a child. Tadeo Turtle is a newly published book by Canadian author Janis Cox. It recounts the story of a turtle who is unhappy with the limits placed on his physical activity by the weight of his shell. As the book progresses Tadeo becomes aware of the wonderful protective powers of the shell and learns to accept himself for who he is. It has a wonderful moral for any child, and even many adults, to learn in a fun and interesting manner. The book is also accompanied by turtle-themed activities and a 24 page curriculum is available from the author. The author is a former teacher and has developed a 24 page curriculum that can be found on her website.
The animal lover or nature lover will love the next offering: In Praise of Wolves is a newly reprinted book by Canadian Naturalist R. D. Lawrence and it is complete with an "afterword" written by his wife, Sharon Lawrence. R. D. Lawrence was a skilled and sensitive field naturalist who spent thirty years studying and gaining a unique understanding of wolves. The book is written in an anecdotal and personal manner but, is full of scientifically sound insights about wolves that will often startle the reader. Lawrence suggests that wolves provide a much closer model of human behaviour than primates. This book demolishes old myths about wolves and brings new understanding.
Carole Finn's new book, Walk by Water, will excite anyone who likes to walk in the woods or white water kayak at a world class kayak facility. Carole Finn is an accomplished artist who has painted a variety of scenes from two very different "trail" systems. Through pictures, paintings, and words the author chronicles the lives of the two men who made the Minden Wild Water Trail and Pacific Rim Trail possible. The reader will understand how their perseverance created two amazing facilities from which mankind can enjoy communing with nature.
A book that will inspire the reader to persevere against all odds is Jeff Pinney's autobiographical book, Zen and the Art of Multiple Sclerosis. Don't be fooled by the title, this is not just a book for people who have been diagnosed with Multiple Sclerosis. This book contains lessons that will help the reader to sustain the course when the going gets rough. The reader will laugh and cry almost simultaneously but, more than anything will experience the spirit of a man who would just not quit when life dealt him a big blow.
There is something here for everyone. Just look under the title of "Art for the Senses" and select books and cds to take a closer look at any one of these items. Why not also browse the over 400 pieces of Canadian art that are also on the website?