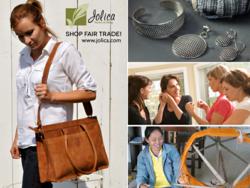 "Giving Fair Trade exemplifies the true Christmas spirit of peace on earth and goodwill toward humankind," said Darlene Loewen, Jolica Inc. founder and president.
Fonthill, ON (PRWEB) November 27, 2012
It's easy to get overwhelmed by Christmas shopping. Long lines, tired sales clerks, impossible parking and stores overflowing with mass produced, often sweatshop made goods can make it feel very wrong. Shopping Fair Trade through organizations like Jolica, http://www.jolica.com, on the other hand, makes shopping a pleasure.
1. Fair Trade shopping is easy and pleasurable: You can shop online (https://www.jolica.com/shoponline), at home parties (http://www.jolica.com), community events and in independent stores.
2. Fair Trade shopping is guilt free because it's sweat shop free. Every Jolica piece was handcrafted by an artisan who was treated with dignity and respect.
3. Fair Trade gifts are available for every budget. Whether you are looking for an inexpensive stocking stuffer or an expensive statement piece, you can find it Fair Trade. Jolica jewelry prices begin at $15.
4. Because Fair Trade gifts are unique, they are ideal for special people. Every piece was handcrafted, which means no two pieces are exactly like.
5. Fair Trade gifts are perfect for people who have everything. From jewelry to food products, there is something for everyone.
6. Fair Trade makes it easy to buy for the people you don't know very well. Fair Trade makes even gift exchanges easy and comfortable.
7. Fair Trade gifts exemplify 'Peace on Earth and Good Will Towards Humankind'. When you shop Fair Trade you are treating the producer of your gift with dignity and respect.
8. The receiver is unlikely to get multiples. Fair Trade products are not mass produced or found in every store. Jolica accessories are handcrafted in India, Thailand, Chile, Nepal, Indonesia and Peru.
9. Fair Trade gifts are memorable, which makes you memorable too. Every Fair Trade product has a story, which makes it far more special than a mass produced gift. You will be remembered as a thoughtful and sensitive gift giver.
10. Fair Trade gifts continue the cycle of empowerment in artisan communities - families thrive, children are educated, women and men have choices.
Fair Trade jewelry, scarves and accessories can be purchased through Jolica Gift Consultants at home parties and online at http://www.jolica.com. Shopping Jolica is fun, easy and uplifting.
Jolica is a direct sales accessory company and a proud member of the Fair Trade Federation. Every piece of jewelry, scarf and handbag was handcrafted by fairly paid artisans who were treated with dignity and respect.
Five percent of every sale goes to the Jolica Foundation, which is committed to addressing barriers that keep people in developing countries from learning skills, creating sustainable ways of earning an income, and participating fully in their communities.
It's almost impossible to shop wrong when you shop Fair Trade.
About Jolica:
Founded in 2005 by Darlene and Ted Loewen, Jolica is a privately owned direct sales company based in Fonthill, ON, with independent Gift Consultants across Canada and the US. Jolica's products are created by artisans in Chile, India, Indonesia, Nepal, Peru and Thailand and are purchased according to the principles of Fair Trade to ensure maximum benefit to the artisans. Five percent of all sales go to the Jolica Foundation. Jolica is a member of the Fair Trade Federation. (FTF), the Direct Selling Women's Alliance (DSWA), and the Direct Sales Association Canada (DSA Canada). http://www.jolica.com
Contact:
Ingrid Heinrichs Pauls
Public and Media Relations
(c) 905.330.9040
ingrid(dot)heinrichspauls(at)jolica(dot)ca