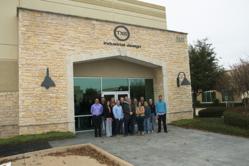 Richardson, Texas (PRWEB) November 28, 2012
TXS Industrial Design, Inc. announced it has moved into a new eleven thousand square foot facility. Previously in separate locations, the industrial design, model making and hotel product divisions are now all under one roof. This move gives TXS' customers a seamless product development experience, from conceptual design to production.
TXS has experienced tremendous growth and a 300% revenue increase in 2012. The expansion of TXS is a result of two impactful developments in recent years. First was the launch of Brandstand Products, in 2005, a line of innovative, user-friendly products designed, manufactured and distributed to the hotel industry. Brandstand Product's customers range from the independent hotelier to some of the largest hospitality property management and corporate hotel companies in North America.
The second development was the addition of Buzzwerk, in 2008, a high definition prototyping shop. Buzzwerk offers the unique service of unifying craftsmanship and technology to create functional CNC prototypes, product and architectural models. Model-makers use sophisticated CAD tools to transform 3D computer models into data prepared for CNC milling machines. Buzzwerk complements the services offered by the design firm and allows for integrated in-house product development. "By increasing the shop's square footage we are better able to support our design firm as well as other corporate customers with precision crafted prototypes.", said Philip Curtis, Director of Buzzwerk. Staci Mininger, Vice President of TXS adds, "Buzzwerk is run as a separate entity to allow them to service other design firms. As always we continue to maintain strict confidentiality amongst the model-making and design groups."
In addition to the expansion, TXS Industrial Design continues to provide focused and creative design with a portfolio that spans four decades and countless successful products in multiple industries. TXS offers a variety of services including conceptual design, 3D rendering, mechanical design, prototyping, ergonomics and user testing. From consumer products, to airline seats, stage lighting to medical products; TXS' strength lies in its ability to combine creative energy, technical savvy and product understanding, to make innovation real.