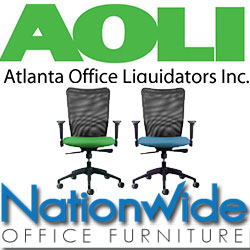 Atlanta, GA (PRWEB) November 22, 2012
Equipped with the latest seating technology, Nationwide Office Furniture offers a variety of Ergohuman Office Chairs that are designed to make those long periods of sitting more bearable.
The typical office employee sits for an average of six hours per day. That's a long time to remain in the same position. For this reason, it's important to have an office chair that offers the support one needs to stay comfortable. Nationwide Office Furniture carries office chairs specially designed with comfort in mind. Their Ergohuman Office Chairs include features such as tilt tension control, seat depth adjustment and other components that decrease the amount of pressure placed on the body. "After years of working in the office, I've experienced the body aches caused by cheap office chairs," says Jack Deoliveira, co-owner of Nationwide Office Furniture.
"Sitting for extended periods of time can really take a toll on the back, especially if the chair doesn't offer enough support. Our Ergohuman Office Chairs are designed for the employee that sits the majority of the day. They can be adjusted to support any of the sensitive body parts that tend to cause pain", says Co-Owner Ramon Khawly.
Nationwide Office Furniture supplies the United States with the top names in office furniture. They offer a wide variety of new office chairs including the top models from Eurotech, one of the leaders in office seating. Free shipping is available on all of their products.
For more information, contact Nationwide Office Furniture at 404-505-9623 or online at http://www.nationwideofficefurniture.com.