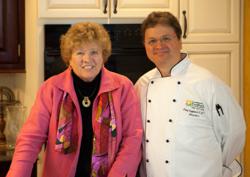 No matter who you are or where your food is coming from, you deserve to enjoy your meal with dignity.
Butler, NJ (PRWEB) November 26, 2012
In preparation for the nation's upcoming holiday season, The Happy Chef, Inc. has partnered with major nonprofit organizations to bring professional culinary attire to some of the area's most community-oriented kitchens. The company donated chef coats, chef pants, aprons, headwear, and other uniform products to locally-based charities with a commitment to meeting the foodservice needs of the disadvantaged.
"We work primarily with people with disabilities […] in a 3-month training program where they learn how to make soups, sauces, and baking," said Eileen Hamilton, Assistant Director of FedCap, a vocational organization. "Our instructor, a professional chef, went through [Happy Chef's donation] and was extremely excited. Our culinary arts students will look more professional." Hamilton further explained that much of the apparel donated by Happy Chef would also be used as parting gifts to students graduating from the foodservice program.
Similarly enthused to receive support from Happy Chef was Greg Tuck, Director of the Salvation Army's Star Lake Camp and Conference Center. The center, which serves hot meals to at-risk youth and local seniors living below the poverty line, received a large donation of serving shirts, pants, aprons, and belts. "[Happy Chef's donation] really does support our goal of serving the most at-risk people, bringing [them] dignity and helping them see their futures can be different."
Both sets of donations, as well as donations to Restaurant Opportunities Center of New York (ROCNY), are part of Happy Chef's continued commitment to making world-class foodservice available to people of all means and backgrounds.
"No matter who you are or where your food is coming from, you deserve to enjoy your meal with dignity," said Howard Curtin, Senior Vice President of Happy Chef. "And, just as important, foodservice professionals should be able to prepare and cook in apparel that reflects the honor of their work. Happy Chef [is] proud to support groups committed to maintaining a better dining experience for some of our nation's most disadvantaged groups. "
About The Happy Chef, Inc.
Happy Chef® is the leading manufacturer and provider of affordable culinary uniforms, from chef jackets to chef pants, among foodservice professionals. Founded in 1985 by Chairman Joseph H. Nadler, Happy Chef has grown from a local apparel provider to an international distributor of chef wear, footwear, cutlery, and other food service necessities. Known for industry-leading value, durability, and customer service, Happy Chef is also host to the largest virtual cooking community with a Facebook following of over 130,000 members as of this writing.
For additional information about The Happy Chef, Inc., visit http://www.happychefuniforms.com or call 800-347-0288. The Happy Chef, Inc. is an A+ accredited Better Business Bureau registrant and is headquartered at 22 Park Place, Butler, NJ 07405-1371.