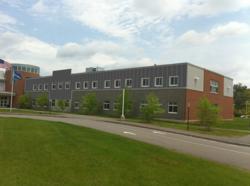 Solar PV systems with backup power are available to qualified businesses and government agencies, often with no capital expense, using Power Purchase Agreements.
Newmarket, NH (PRWEB) November 21, 2012
PHI Management Solutions in partnership with Revolution Energy have bundled together a robust package to incorporate state of the art solar inverters, batteries and PV to support any backup power system for residential, commercial and Government applications. This system was officially unveiled by Ralph Huber, president of PHI, and Clay Mitchell, President of Revolution Energy, on WSMN Radio 1590AM Nashua, NH. You can listen to the PODCAST at http://phi-emsolutions.com/wp-content/uploads/2012/11/N11_20_12show.mp3
According to Mitchell, the system is designed to work like a hybrid car. A battery pack is installed to power the building and the batteries are then charged either by solar energy, grid power, or a generator. The solar provides benefits all of the time by reducing the amount of energy purchased by the power grid. When this system is combined with a small backup generator it can function independently of the power grid for an indefinite period. This system can be sized to meet virtually any requirement.
In many cases the system can be installed without any up front capital expenses. Mitchell said that this is achieved through the use of Power Purchase Agreements or PPAs. PPAs, he explained, are a way to finance an energy project where the end user enters into a long term agreement to purchase the energy generated by the system much like the purchase power from their electric provider.
Mitchell said that these systems are great for schools, emergency facilities, distribution centers and just about anywhere else where shutting down during a power failure is not an option. In addition to the solar backup power system, Huber and Mitchell also discussed solar hot air technology. In this application outside air is preheated using the energy of the sun and injected into the building air handling system. This reduces the amount of energy required to raise the temperature of the air and heat the building. This type of system can also be purchased under PPA, as well, and the financial savings can be significant over time. According to Mitchell, these systems can be retrofitted to fit most existing buildings and they can also be incorporated during the design phase.
PHI Management Solutions, Emergency Management Division, offers many different home and institutional products for emergency planning. They also have free downloads and information links designed to inform and assist individuals, families, organizations and businesses prepare for emergencies. Our team is composed primarily of veterans with over 90 years of combined service. Each member of the team has proven themselves through combat command and has extensive experience in disaster response and planning. Team members have commanded response forces and/or participated in several disaster responses to include the 2005 crash of a civilian airliner in Afghanistan, Hurricane Katrina 2005, Southwest New Hampshire Flooding in 2005, New Hampshire Statewide flooding in 2006, Epsom, NH tornado response in 2007, the 2008 New England Ice Storm, 2009 Anthrax Response in Durham, NH, the 2010 Wind Storm, Hurricane Irene in 2011, and the October 2011 New England Snow Storm.