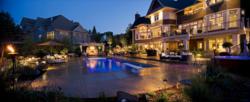 We had to think outside the box and came up with an outdoor living space with a resort/spa feel.
Minneapolis, MN (PRWEB) November 21, 2012
Southview Design has won the top award for outstanding achievement in the Residential Exterior category at the 16th annual Contractor of the Year (COTY) Awards, hosted by the National Association of the Remodeling Industry (NARI).
Celebrating the best in Twin Cities residential remodeling, the COTY Awards are given to residential and commercial builders, remodelers and designers in 26 different categories. This year, there were a total of 83 entries; some categories such as residential exterior design which Southview Design won, were very competitive.
"This was one of my favorite projects, and I'm riding high," said Tim Johnson, Southview Design landscape designer, of the backyard design for the Minnetrista home. Johnson said the owners instilled a lot of trust in him to come up with an outdoor living space with a resort/spa feel. "Over the last three years, their goals grew, resulting in changes to the final design," he said. The exterior project included an outdoor kitchen, pool, low-voltage lighting, fireplace, pergola, waterfall and pond. Johnson said they had to think outside the box to accommodate the site restrictions of the lake property, such as engineering the pergola so that it's held up on two posts and suspended by a hand-built fireplace.
Hosted by the Minnesota chapter of NARI and sponsored by Shaw/Stewart Lumber Co., this year's festivities on Nov. 16 drew more than 260 attendees. Contestants were judged by a panel of 25 remodeling professionals from the Milwaukee chapter of NARI who scored the entries based on their project descriptions and photos. Award winners demonstrate excellence in aesthetics, functionality, superior craftsmanship, use of innovative construction materials and techniques, overcoming difficult obstacles, and meeting client needs.
NARI is a not-for-profit trade association committed to promoting the interests of its members within the remodeling industry, and acting as a resource to remodel-ready homeowners. The only national association dedicated solely to the remodeling industry, NARI acts as an industry spokesgroup.
Southview Design is landscaping contractor based in Inver Grove Heights, MN with experience in landscape design, construction and service and special expertise in designing northern landscapes for even the most challenging Minnesota weather. Since its inception in 1978, Southview has completed over 5,000 landscaping projects all over the Twin Cities area and western Wisconsin. Landscape designs by Southview have received awards from the Minnesota Nursery and Landscape Association and the Minnesota chapter of the National Association of the Remodeling Industry. For more information, visit http://www.southviewdesign.com.