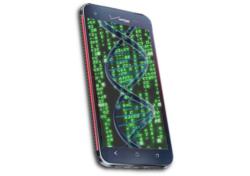 Here's to hoping for a furious flurry of flocks of phablet sized smartphones with PPI counts higher than a gaggle of migrating geese.
Austin, Texas (PRWEB) November 26, 2012
An assessment by Paul B. Wordman states, "Here's to hoping for a furious flurry of flocks of phablet sized smartphones with PPI counts higher than a gaggle of migrating geese", and it concludes a report titled: HTC J Butterfly Smartphone Emerges From Cocoon as DLX or DROID DNA – Verizon USA.
A previous report published on Parts-People.com covered the HTC J Butterfly smartphone, and surmised: "Apple Inc. may want to hide in a bunker and batten down the hatches, because if pixels were projectiles, Apple would be punched full of holes."
Those reports point to the fact that even more important than display size, the essential feature that determines a perception of quality for a display screen is its PPI density (Pixels Per Inch). Also explained is the fact that Apple's "retina display" has only a 326 PPI density by comparison to 440 to 443 PPI displays on several smartphones that will be released in the very near future. Those new display screens offer a 35% improvement in pixel density above and beyond Apple's "retina display", and will make Apple Inc.'s so-called "retina display" look positively dated.
The technology report on the new HTC Droid DNA smartphone observes: "if the history of technology means anything we should expect most smartphone manufacturers to make products using 440 - 443 PPI display screens from LG, Sharp, or other sources no later than 2013".
Smartphone & Mobile Device Articles by Paul B. Wordman

HTC J Butterfly Smartphone Emerges From Cocoon as DLX or DROID DNA – Verizon USA
2013 Smartphones Trend: Smartphone LapDocks or Webtops = Convergence or Just A Fad?
HTC J Butterfly 440 PPI Smartphone Could Fly to USA Punching Above Its Weight
Calxeda Low-Power ARM-Based Servers Mean Datacenter Savings: Austin Technology
2013 Smartphones With 5-Inch 443 PPI Full HD 1,080p Displays Will Kick Glass
Battery Technology Snap Update – Do the Math
World's 1st 441 PPI Full HD 1,080p Smartphone – Oppo Find 5: Just Say El-Wow-Zoid
Blokket in Your Pocket – Signal Blocking Pouch Has You Covered
Booster Brolly Tech Umbrella – 'The rain, the park, & other things'
ClamCase ClamBook BYOB Laptop Shell Uses Smartphone as CPU
Schott Glass Xensation Shoots at Corning Gorilla Glass 2
Tactus Touchscreen Rises to the Occasion & Gets in Touch With Your Inner Keyboard
651ppi JDI Display = 2x the Resolution of Apple's Retina Display
Super Lithium-Ion Battery Could Supercharge Phones, PCs, & Cars
FXI Cotton Candy PC-on-a-Stick Upstaged by Chinese MK802 Facsimile
Retina Display Resolution – Retina Quality, Retina Class, Retina Style
Driving Convertibles & Merging Laptops + Tablets = Hybrids
Upcoming Phablet Smartphone Technology Trends & Developments
Samsung Galaxy Beam Projector Phone – A Quick Look
Asus PadFone Specs – It's déjà vu all over again
Multifunction Convergence – Fujitsu Lifebook 2013 Concept Notebook
4G IMT Advanced, LTE, WiMAX vs 3G Speed – Executive Summary
About Parts-People.com
The online store at http://www.Parts-People.com/ serves a large number of businesses, school districts, government agencies, non-profits, and individual consumers that cannot, or will not make eBay purchases for various reasons. The technical staff is a team of experts trained to work only on Dell products; a significant reason that individuals and organizations order replacement parts or ship their laptops to Parts-People, from all over the world, for service or repair.
The Parts-People.com web-site delivers technology information services including a news section covering Display Screen Technology, as part of its online comprehensive knowledge-base resource center. Some of those technology news articles have the goal of making geek fun, with things that make people say wow.
Roscoe Dyer, Parts-People's Director of Social Media, produces online tutorial, do-it-yourself, how-to-repair laptop videos, and Dell laptop service manuals http://blog.parts-people.com/ which are updated on a daily basis.
Parts-People.com now stocks more than quarter of a million Dell laptop parts, and operates an online store which provides one of the largest selections of Dell replacement parts on the internet.
Continually increasing parts inventory of wholesale Dell laptop parts in Austin's growing technology hub, Parts-People.com now stocks more than 250,000 notebook replacement parts physically in-house, on-site, and ready to ship the same business day.
The company provides refurbished laptops (Click Here) for buyers who prefer a familiar operating system (OS) on hardware with a demonstrated stable of drivers.
Established in 2002 as a start-up, entrepreneurial, family-owned business, the company's rapid growth in 2003 became the incentive to consolidate operations in 14,000 square-feet of mixed retail, warehouse, and office space.
The growth of Parts-People.com is enhanced by its location in Austin, which is known world-wide as a technology hub. The area is also home to offices of companies such as: AMD, Apple, Cirrus Logic, Dell, Evernote, Facebook, Freescale, Google, HP, IBM, Microsoft, National Instruments, Nvidia, PayPal, Silicon Labs, and 3M. Often called Silicon Hills, Austin is also known to art, music, and SXSW (South-by-Southwest) aficionados as simply, "the ATX".
Contact Information
Parts-People.com can be reached toll-free at 866-816-5254. The main phone number is 512-339-1990. Fax: 512-339-1996. Technology Journalist: paul.b.wordman(at)gmail(dot)com, paul.bottoms.wordman(at)turbo12(dot)com. Company E-mail: info(at)parts-people(dot)com.