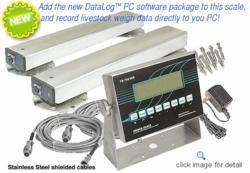 (PRWEB) November 24, 2012
Floor Scales Direct announces its new line of cattle scales and industrial weighing scales just in time for the holiday season. Cattle scales are used throughout the agriculture industry to accurately display the weights of large animals before the animals are sent to processing and after they arrive at the processing center.
Floor Scales Direct is an online retailer of a wide variety of different industrial and commercial grade scales. These commercial and industrial weighing scales have an equally diverse range of applications that can be used across numerous industries, including shipping and receiving centers, dry chemical operations, fertilizer plants, and animal processing centers.
Additionally, all of the scales manufactured and provided by Floor Scales Direct are legal for trade, as authorized by the National Conference on Weights and Measures, an organization dedicated to developing and regulating the technical standards for weights and measures in the United States.
The new cattle scale features quick and easy setup options as well as highly accurate display screens. These scales have been specially designed to meet the demands of weighing livestock, so naturally the product was built with highly durable and strong steel that has a galvanized finish to prevent rust. Additionally, these scales are waterproof and can accurately display the weights of animals that are less than 5,000 lbs.
Cattle scales also have several accessories that an interested customer can purchase. Some of these accessories include thermal printers, star roll printers, an indicator stand, and DataLog™ scale-to-PC software. This software tallies and accurately records the weight of livestock, simplifying data collection.
Additionally, Floor Scales Direct is providing its customers with a comprehensive selection of industrial weighing scales. These scales have capacities that reach up to 5,000 lbs. and are legal trade certified. As well, these scales feature stainless steel manufacturing, self-leveling functionality, and have uses in a wide variety of shipping and industrial practices. For more information on the new industrial scales or cattle scales provided by Floor Scales Direct, visit http://www.floorscalesdirect.com.
Boilerplate:
Floorscalesdirect.com is an online retailer of all things scale related. Floor Scales Direct is a division of Triner Scale, one of the United States' first and most prestigious scale manufacturers. From cattle scales to truck scales and industrial weighing scales, Floor Scales Direct has the perfect scale for your industrial or commercial weighing needs.