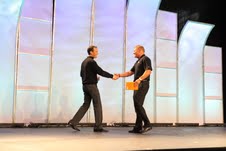 Dallas,Texas (PRWEB) November 21, 2012
Nerium International held its Fall Bash Tour in Fall 2012. Nerium, a Dallas-based skin care company, held the Fall Bashes in Dallas, Nashville, and Anaheim, thousands of Nerium Brand Partners were able to participate in training exercises, hear from engaging guest speakers, and enjoy quality entertainment from coast to coast.
Nerium unveiled several exciting announcements at these events. Holiday gift sets were revealed to the delight of many. Phyllis Anderson, the most recent winner of the 90 Day Contest, spoke to the audience.
Nerium International is committed to offering the latest in technological advances to its Brand Partners. At the Bashes, Nerium Brand Partners enthusiastically greeted announcements to help bolster their businesses, including an enhanced Sponsor Tree. Nerium International is always finding new ways to help the Nerium Brand Partners with resources and online tools to build business. The audience in Anaheim participated in a live exercise to maximize their social media presence as well.
Shawn Achor, author of The Happiness Advantage, spoke at the Anaheim Bash. "Research is useless unless it is lived, which is why I'm excited to see how Nerium is so fully embracing the research of The Happiness Advantage within its culture," said Achor. "Based on the research in my book, a positive brain has an incredible advantage in terms of business, educational and health outcomes over our brains at negative or neutral. By incorporating the principles of The Happiness Advantage and the research of positive psychology into their company mission and culture, Nerium is helping create a movement of individuals who are reaping the advantage of greater happiness and success in their lives." Nerium International is pleased to announce that Achor will speak at future events to further the mission of happiness within the company.
In addition to the activities offered for Nerium Brand Partners, nearly 800 teens and preteens were impacted by the message of the SUCCESS Foundation at three separate Slight Edge for Teens workshops held in the Bash cities. These workshops were free of charge for all attendees, as they were underwritten by Nerium. Inspired by the bestseller The Slight Edge, written by Nerium International's Founder and CEO Jeff Olson, participants learned how to create a philosophy of action and attitude. The teens also learned new ways of thinking in order to make wise choices at home, at school and with their friends. For more information, please see http://www.prweb.com/releases/2012/11/prweb10155721.htm
To finish the Anaheim bash with a bang, Nerium International brought in Jermaine Paul, winner of NBC's The Voice, to perform for an energized crowd.
Jeff Olson, Founder and CEO of Nerium International, was thrilled about the outcome of the Fall Bash Tour. "Our Brand Partners are the best of the best," said Olson. "Not only are they wonderful at spreading the vision of Nerium – which is to make people better – they are loving, caring, sharing people. Our goal when we started this company was to create the best direct sales company ever. I feel confident that we're doing just that."
Nerium International will be conducting a Spring Bash Tour as well. Events will occur in Grapevine, TX on February 14-16, in Nashville on March 14-16, and in Las Vegas on April 18-20.
ABOUT NERIUM INTERNATIONAL: Nerium™ International, LLC, headquartered in Addison, Texas, markets breakthrough products validated by science. In 2011, the relationship marketing company partnered with Nerium SkinCare™ Inc. (a subsidiary of Nerium Biotechnology, Inc.®), to deliver the NeriumAD™ skincare line. These first-of-their-kind products – clinically proven to reduce the appearance of fines lines and wrinkles – are the result of leading-edge research into the Nerium oleander plant and its age-defying results when applied to the skin. Led by an executive team with more than 150 years of collective experience, Nerium International is committed to developing and distributing skincare products that are rooted in real science and produce real results that improve consumers' lives. For more information, please see http://www.nerium.com.