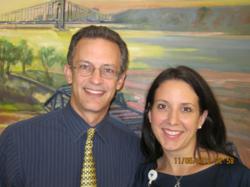 Riverdale, N.Y. (PRWEB) November 21, 2012
Bon Secours New York Health System, Schervier Nursing Care Center, in the Riverdale section of The Bronx, presented its Palliative Care Program at LeadingAge's National Conference on Wednesday, October 24, 2012, in Denver, Colorado. Gregory Poole-Dayan, Administrator, and Jennifer Giuffrida, LCSW, Director of Social Work and Recreation, represented Schervier at the four-day conference to share the successes of its newly-enhanced Palliative Care Program.
"To be a part of the educational program at the LeadingAge National Conference, which included over 200 educational sessions, was such an incredible experience," said Giuffrida. "It was a true honor to be one of the care providers selected to present among several healthcare leaders that provide compassionate care for our aging population."
LeadingAge's National Conference brought over 8,000 healthcare providers for not-for-profit aging services, clients, and board members, from across the United States and internationally. Presenters were selected on a submission-based process. LeadingAge selected thought-provoking aging care programs and providers to share innovative approaches and practices, and emerging trends that are impacting the healthcare field.
"Our goal was to not only share the specific successes we are achieving at our facility with the Palliative Care Program to help fellow healthcare providers improve their quality of care and services, but also to obtain information and advice from various influencers to help us continue to provide the highest quality of care at Schervier," said Poole-Dayan. "We learned new trends in aging services, and networked with other care providers for ideas, support and fellowship while sharing the unique details of our program to help other care providers."
Poole-Dayan and Giuffrida's hour and a half-long presentation, "Palliative Care: Good Practices and Tools for Success" included an overview of the changes and improvements made to Schervier's Palliative Care Program that has helped advance the quality of care provided to its elderly patients. Over the past year, Schervier's improved Palliative Care Program increased the number of palliative care residents from five percent to over 30 percent, decreased the 30 day re-hospitalization rate to 15 percent, and decreased the number of residents with feeding tubes by over 40 percent.
"We've seen remarkable results since establishing new initiatives to enhance our palliative care program and hope that our presentation will aid others in providing the highest level of comfort and care to their residents and patients," added Poole-Dayan.
For more information on the 2012 LeadingAge National Conference, visit http://www.leadingage.org/annualmeeting/. To learn more about the services Schervier provides, visit http://www.scherviercares.org/ or its Facebook page at https://www.facebook.com/SchervierNursingCareCenter.
About Bon Secours New York Health System
Schervier Nursing Care Center is located in the Riverdale section of The Bronx, and is part of Bon Secours New York Health System, whose mission is to bring compassion to health care and to be "good help to those in need." Bon Secours New York's mission is carried out through the services and programs of Schervier Nursing Care Center, Schervier Short-Term Rehabilitation in Riverdale, Schervier Respite Care, Schervier Center for Alzheimer's and Dementia Care, Schervier Home Care, Schervier Cardio/Pulmonary Sub-Acute Care, the Bon Secours Center for Research in Geriatric Care and the Schervier Apartments. Information about Schervier and Bon Secours New York may be obtained from the Admissions Office at 2975 Independence Avenue in Riverdale, by calling (718) 884-5100, and at http://www.scherviercares.org.
# # #