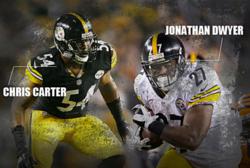 It was an opportunity for us to spend time with kids who look up to us for guidance and want a role model to help them.
(PRWEB) November 20, 2012
Pittsburgh Steelers' teammates, Jonathan Dwyer and Chris Carter play completely different roles on game day but the two joined together to reward and inspire a very deserving group of student athletes. They treated members of Perry Traditional Academy to a fine dining experience at their holiday mentoring dinner at The Capital Grille.
Carter and Dwyer made sure the entire evening was memorable for the group, starting with VIP luxury coach service courtesy of Regency Global Transportation Group to selecting one of the finest restaurants in the city.
They greeted the group as they arrived and welcomed them to the mentoring dinner in a private dining room. Capital Grille's Executive Chef Travis Hall wanted to ensure that the group had an unforgettable dinner and he customized a special menu with an array of choices including lamp chops, dry aged porterhouse and the restaurant's handcrafted ice cream.
In addition to using the dinner to reward the group for their improvements on the field and in their studies, their dual mission was to encourage the attendees by sharing their personal journeys to the NFL. Over the four-course gourmet meal, both players shared their experiences with the student athletes. They answered questions and offered sound advice during the lively discussion. Topics of discussion ranged from hard work to patience to determination. The pair also candidly addressed issues and pitfalls that they've faced and urged the group to always put forth their best effort
"We opened up and let them know we are normal people and you just have to work hard to get to where you are," said Carter. "You are never stuck in a situation. There is always a way out." Dwyer echoed his sentiments and added, "It was an opportunity for us to spend time with kids who look up to us for guidance and want a role model to help them; it was a chance for us to give advice to these kids."