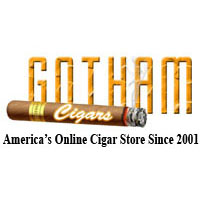 Miami, FL (PRWEB) November 23, 2012
Gotham Cigars, one of America's leading cigar E-tailers has partnered with Nakedwines.com, an online wine retailer. Naked Wines is known for their extremely low prices on great wines. "We get exclusive wines at wholesale prices for our customers by investing in independent winemakers to help them set up on their own," said a spokesperson for Naked Wines. Gotham Cigars will be giving away a free $60 Wine Voucher to their customers on all purchases over $100 this Holiday season as a Thank You for their continued support.
Gotham offers one of the largest collections of high quality cigars, humidors, premium lighters and E-Cigarettes in the entire US. They showcase and sell almost all the major and high quality brands. These cigars are divided into categories like machine made cigars, premium cigars, filtered cigars and little cigars. At Gotham, cigar lovers can get the freshest products at unbelievable prices. Their selection of premium cigars consists of more than 150 different styles and brands and over 30 different brands of machine-made cigars. Gotham Cigars has been a trusted E-tailer for high quality discounted cigars since 2001, and is always looking for rock bottom prices and great deals to offer their loyal and first time customers.
About Gotham Cigars:
Gotham Cigars has been America's leading online cigar store since 2001. They offer a massive inventory of superior traditional cigars, affordable flavored cigars, highly ranked sticks from Cigar Aficionado, and daily deals. This allows customers to try some of the best cigars on the market at rock bottom prices. Gotham is a division of a larger nationwide wholesale tobacco company, which is why they are able to carry a sizable inventory. To find out more log on to http://www.gothamcigars.com.