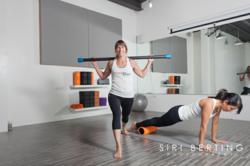 We make it a priority to help our clients meet their fitness goals through our unique class structure and nutrition advice" say Elise Hartley of Studio Pulse.
Redondo Beach, CA (PRWEB) November 21, 2012
Boutique studios are about intimacy, achievement, personal attention and provide a sense of community that make clients feel comfortable to be belong to. Because they are much smaller than the "one-stop shop" gyms, owners and staff make it a priority to know their client's names and most clients like the friendly touch after a hard or stressful day at work. Because smaller studios "specialize" in group fitness, they can more easily manage the quality and consistency of their classes making immediate changes if necessary. And unlike high-pressure sales you might experience at a gym, smaller tudios usually allow for a "pay as you go" model, month-to-month or even single class sessions, not locking it's clients into a long-term commitment. Both studio franchises and private owners have established strong brands that stand alone and stand for something in this competitive environment.
On the flip side, the mega-gyms do offer the "everything under one roof" concept. Everything from pilates to yoga, indoor cycling to rowing, free weights and more, but buyer beware, people should ask themselves just what it is they plan to use. And just how often they plan to go, as they might be paying for something they aren't even using, thinking that it is "free." When it comes to group fitness, gym owners know that the majority of their customers like taking group fitness classes and are building up those programs. But with more programs, equipment and expense comes more people, higher costs and lack of personal attention. In order for large gyms to survive, it's all about the numbers and that usually means your gym will get busier.
A new Los Angeles-based studio, Studio Pulse, found its niche amongst the clutter of the fitness trends by bringing fitness back to the basics and making it more approachable to people. Their unique brand, Spin.Sculpt.Stretch. offers it's clients nothing short of an intense workout. Indoor cycling has always been popular but it has morphed into a trendy workout without regard for safety in some cases. Studio Pulse, as a licensed Mad Dogg business, is practicing good, solid technique with an emphasis on safe, fun and effective classes. Completing their offering is the sculpt, core and stretch classes making up their 30/30 signature "Fusion" classes. While other boutique studios add more programs to become a "one-stop shop" studio often confusing their offering, Studio owners, Hedi Alavi and Elise Hartley stick to the basics: cardio, strength training and stretching. They know that a well-rounded workout is what people want to stay healthy, keep their bodies in shape and relieve the boredom of other repetitive group fitness classes. "We make it a priority to help our clients reach their fitness goals through our unique class structure and by offering nutrition advice, says Elise Hartley (Studio Pulse)."
With so many options out there it's hard to decide on one thing. So here are a few tips to help people get started down the right path and finding what's right for them. 1. Set a clear goal or objective 2. Ask what exercise/activity is most appealing 3. Determine how much is affordable each month 4. Do research, ask for a trial class to check out the studio and 5. Avoid long-term commitments at the start. The good news is that there is something out there for everyone!
About Studio Pulse
Studio Pulse, a Mad Dogg licensed facility, combines Spinning classes with strength and flexibility using fundamental training techniques, exhilarating music and a unique mind/body philosophy, all at a self-directed pace. They hold a very accommodating class schedule for SPINNING and Fusion classes that combine Spinning and Cross Training. Their tagline, "Spin Sculpt Stretch," covers all basics of a healthy fitness routine by incorporating cardiovascular, strength and flexibility training in one place. At 50 classes per week you'll find a convenient time to meet your schedule. Classes are offered as early as 6:00am and as late as 7:30pm. of cardio and strength training.