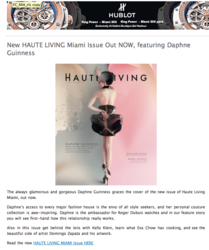 "Time is infinite, but we are not infinite in it." —Daphne Guinness
Miami, FL (PRWEB) November 20, 2012
Daphne Guinness recently sat down with Haute Living magazine for a rare look inside the world of her creative genius. Though she grants few interviews, Guinness has become a well-known figure through her role in the world of fashion, where she is equal parts muse, collector and patron. Guinness recently lent her creative eye to Roger Dubuis when the luxury watchmaker unveiled their Velvet collection.
Guinness told Haute Living, "Time is something that people haven't looked up enough...how we measure human life; it's all tied up with time and before people came up with an actual gauge of time or timepiece, it was very difficult to measure [time]...It's a different dimension of humanity."
She goes on to say, "Time is infinite, but we are not infinite in it." As for standing the test of time, she says that the Roger Dubuis watches she is working with, truly do. "They are durable and mechanical but definitely not disposable; it's about their dedication to the interior."
Also in this issue, we go behind the lens with Kelly Klein, learn what Eva Chow has cooking and explore Miami's top art collectors in this issue that coincides with Art Basel.
The full interview with Daphne Guinness can be read in the November 2012 Miami edition of Haute Living magazine, on newsstands now, and available digitally at http://www.hauteliving.com/magazine/miami-october-november-2012/flipbook/
About Haute Living.com
The Haute Living website is the premier go-to for information on all things Haute around the world. With pages dedicated to 8 cosmopolitan cities, editors update readers on daily news, exclusive events, exciting openings and product releases. The Haute Living group also extends to niche luxury markets, with news about everything Haute, from yachts to interior design. The acclaimed Haute Time leads the group, providing luxury timepiece aficionados with product previews, exclusive interviews and more.

About the Haute Living Brand
Haute Living Magazine is a national luxury lifestyle magazine published in four markets—New York, Miami, Los Angeles, and San Francisco. Haute Living Magazine features the top entrepreneurs, businesspeople, and notables in each market. Haute Living Magazine also highlights the best in luxury consumer goods, culinary hot spots and events. Haute Living recently redesigned its website and re-launched its Haute Time and Haute 100 websites for state-of-the-art experiences.
For inquiries, please contact:
Seth Semilof
Publisher
t: (646) 599-2750
e: ssemilof(at)hauteliving(dot)com