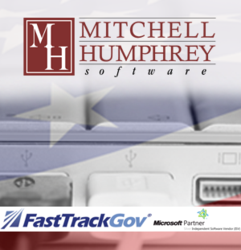 The ICC Expo was a great venue for us to meet with building inspectors and present the benefits of our new FastTrackGov Permitting module
Saint Louis, Missouri (PRWEB) November 26, 2012
Public safety professionals gathered on October 21-28, 2012 at the Oregon Convention Center to attend the 19th Annual International Code Conference and Expo in Portland, Oregon. This gathering offered educational and networking opportunities to attendees through exhibits, classes, and speakers. The Expo showcased the latest building and sustainability products, services, and technology. Mitchell Humphrey Software representatives presented its Permitting module, the newest addition to its full suite of FastTrackGov® (FTG) web-based solutions.
Mitchell Humphrey's software was built to allow for a centralized database with many applications for State and Local Government including Financials and Accounting, Point of Sale, Citizen Web Portal, and Citizen Request Tracking.
Power users and ICC attendees discussed the flexibility of the many applications such as: License Administrator, Meeting Manager, Parks and Recreation, Construction Project Manager, Property Maintenance, Zoning, Land Use, Permits, Code Enforcement, and Inspections.
Since Mitchell Humphrey's FTG product is built on Microsoft Dynamics CRM, it simplifies communication among all governmental departments. Municipal department officials in Building Permits, Land Use and Zoning, Public Works, Planning, Assessors, Police, Health, Engineering, Vital Records, Recorder's Office, and Emergency Management will benefit from the transparency of the solution.
The ICC attendees learned that all ICC and local codes can be stored by municipal inspectors and code enforcement personnel via laptop computers or tablets. Additionally, they discussed how inspection reports could be created and applications routed and tracked for review electronically.
"The ICC Expo was a great venue for us to meet with building inspectors and present the benefits of our new FastTrackGov Permitting module," stated Nancy Brady, Account Executive at Mitchell Humphrey. "With each step of the permitting process simplified and reaching out to all parties through automated communications, notices, and alerts; our permits database may be considered an all-inclusive connection among municipalities, building departments, and their communities."
The International Code Council (ICC) is a member-focused association dedicated to helping the building safety community and construction industry provide safe, sustainable, and affordable construction through the development of codes and standards used in the design, build, and compliance process.
About Mitchell Humphrey
Since 1977, Mitchell Humphrey has been providing software and services to clients in both the public and private sectors. Today, clients across North America benefit from our solutions in citizen services, accounting, human resources/payroll, community development, and cashiering.
FastTrackGov is Mitchell Humphrey's suite of products intended to facilitate communication between government and their constituents providing for a completely integrated organization. Municipal and county governments, agencies, special districts, and taxing authorities have all benefited from the ability to manage a broad array of citizen services from this single, fully secured, integrated system.
FTG's On-Line Permitting module provides efficiency, cost savings, and total control for governmental organizations while offering transparency and ease of use to their citizens. Mitchell Humphrey will be releasing Permitting and Construction Management within the first quarter of 2013. To learn more about Mitchell Humphrey's FTG software or to see a demo, visit http://www.fasttrackgov.com/resources/webcastswebinars/.