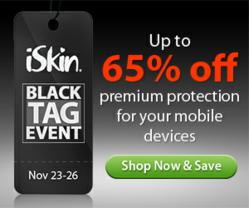 the biggest savings of the year will be available this coming Black Friday weekend
Toronto, Ontario (PRWEB) November 22, 2012
iSkin, a premium brand of fashion and technology lifestyle accessories, today announced that the biggest savings of the year will be available this coming Black Friday weekend. iSkin is ready for the biggest shopping weekend of the year. iSkin will give their customers savings all weekend long, plus Cyber Monday too.
Shoppers don't want to line up to get into a store or face the crowds once they are inside. iSkin customers who shop online will get the benefit of exclusive online deals, discounts and specials. Also, on Black Friday online shoppers will have a chance to win their iSkin purchase on iSkin.com. Five winners will be awarded their order for free!
iSkin starts Black Friday at 12:01 a.m. on Friday, Nov. 23. Black Friday and all Cyber Monday weekend stock at iSkin will not run out.
About iSkin Inc.
iSkin Inc. has been one of the world's most trusted mobile accessory brands since its first advanced protective solution for the iPod® in 2002. Known for its cool, innovative designs and fashion-forward style, iSkin continues to be the leading mobile accessory brand. iSkin continues to focus on delivering the highest quality, innovative design and fashion-forward style in accessories for Apple®, BlackBerry® and now Samsung®.
The iSkin word mark and logo are registered trademarks of iSkin Inc., registered in Canada, the United States and other countries. All Rights Reserved 2006-2012. Other company and product names mentioned herein are registered trademarks of their respective companies.
For further information contact:
Press(at)iSkin(dot)com