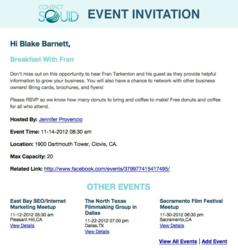 Including the ability to share contacts...
San Francisco, CA (PRWEB) November 22, 2012
San Francisco, CA (PRWEB) November 21, 2012. Contact Squid, a business contact management portal developed and operated by California multimedia production company BLARE Media, has introduced several enhancements to its event management function which allows users to invite all contacts from specific geographical locations with the click of a button.
When sending out an invitation through the Contact Squid interface, users have the option of sending it to all of their contacts, or to filter by city or state. This reduces the amount of invitations sent to contacts who reside out of the area, while also streamlining the invitation process.
According to Blare's Project Manager Blake Barnett, "Contact Squid is similar to ConstantContact and MailChimp, but ours is a completely free, unlimited service. We hope to make it easier for users to manage event invitations on Contact Squid than on Facebook, where you have to spend a while clicking on each friend you want to invite, or risk inviting people inappropriately. Also, the fact that each invitation sent features additional area events is a value-added promotional benefit for the members who use our service."
Other features which were recently rolled out include the ability to import contacts from multiple locations such as Google, ConstantContact and MailChimp accounts with a few clicks, and, as mentioned by Barnett, the addition of a snapshot of six similar, local events to each event invitation email (See picture to the right). This was done to increase the exposure of each event entered into the system, as each contact will see the other events when they open their invitation. As an example a member can send an event notification out to 100 of their contacts, which has the possibility to receive extra exposure from 1000's of other contacts in the area when other members send out similar event notifications.
Contact Squid is similar to other contact management systems, with the difference being that it does not charge extra for its premium features, including the ability to share contacts, rate contacts, create search engine-friendly URLs on profile pages, unlimited contacts and emails, meta-tags, and social media integration.
BLARE Media is a video production and web design firm based in Fresno with offices in San Francisco, San Jose, Walnut Creek, Sacramento, Fresno, Los Angeles, Las Vegas, Seattle and Dallas.
For more information, visit http://www.contactsquid.com or call BLARE Media at (415) 865-9811