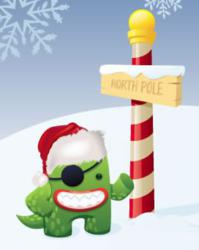 "For 2012 we're giving away $594 worth of WordPress items for only $29. This is the biggest and baddest bundle we've ever unleashed on Mojo-Themes.com" Brady Nord
Salt Lake City, UT (PRWEB) November 21, 2012
Mojo-Themes.com, a premium web theme and template marketplace located in Salt Lake City, announces it third year anniversary cyber bundle. For seven days customers can buy 16 premium WordPress themes and WordPress Plugins worth $594 for only $29.
The Cyber Bundle from Mojo-Themes.com goes from November 26, 2012 until midnight on December 2, 2012. The Cyber Bundle includes 16 WordPress related items that has a value of $594 and can be purchased for only $29.
MOJO-Themes.com has become known as one of the leading WordPress Theme marketplaces with over 48,000 users and 725 items available for download.
Here are the items included in the 2012 Cyber Bundle:
Betty WordPress Ecommerce Theme
WordPress Plugins
MOJO Newsletter Subscriptions
Mapify.it
Next Slider Responsive jQuery Slider
Alpha
Zenbox
Suehto
Zone4
Clifden
Simplicity
More+
Vixen
Stella
Studio.London
NEO
JR Farr, Co-Founder of Mojo-Themes.com, said: "Mojo Themes is grateful to its community for helping make our company live and breath and allow us to do the work we love to do. This is our way to give back and say thanks. What better time than Cyber Monday to give a way so much for so little?"
Brad Nord, Co-Founder of Mojo-Themes.com, said: "Since the launch of Mojo-Themes.com we've had an annual Cyber Bundle that starts on Cyber Monday. This year we're giving away $594 worth of WordPress items for only $29. This is the biggest and baddest bundle we've ever unleashed on our website."
MOJO Themes offers website templates and themes for most of the major platforms. MOJO has items starting at $5 and allows visitors to browse their categories to find the best theme or template for them. Items are priced on difficulty, features and use of the file. Every theme and template automatically comes with free unlimited support and upgrades. All themes are also available for instant download.
Mojo Themes has been featured in dozes of articles on sites such as: Mashable, Smashing Mag, The Next Web, WP Candy and more.
About MOJO Themes
Founded in 2010, MOJO Themes is a premium website theme and template marketplace in Salt Lake City, UT that allows designers and developers of WordPress, Magento, Tumblr, Joomla, Email, PSD and HTML themes to sell their items to website owners who want affordable, clean and easy to use themes and templates. Mojo-Themes.com has more than 725 themes and templates across eight different categories that have been downloaded over 100,000 times from over 48,000 users.
For more information, please visit MOJO-themes.com.