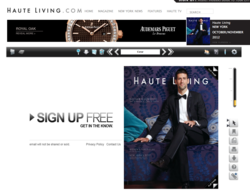 "Obviously, I was aware that it would be very hard to repeat the same result [as his winning record], but that didn't discourage me from dreaming big. I'm aware that our best changes from season to season."
New York, NY (PRWEB) November 21, 2012
Novak Djokovic, the superstar Serbian tennis player, has the world at his feet. Consistently ranked among the top three tennis players in the game today, Djokovic has won five Grand Slams, taken Wimbledon and the US Open, earned countless Masters titles and medaled at the Olympics. If this impressive resume seems like a recipe for creating a hot-headed egomaniac, think again.
Haute Living had the privilege of interviewing Djokovic, who spoke candidly about the pressure he puts on himself to win and the importance of retaining perspective. "Obviously, I was aware that it would be very hard to repeat the same result [as his winning record], but that didn't discourage me from dreaming big. I'm aware that our best changes from season to season."
This grounded attitude, coupled with a relentless drive, makes Djokovic a true star, much like luxury watchmakers Audemars Piguet. The tennis pro has worked with the company for years, and considers them a sort of kindred spirit, telling Haute Living with a smile; "We both break the rules by first mastering them."
Also in this issue, get a glamorous dose of Fall Fashion, follow the New York social scene, and see how Bloomberg's Trish Regan keeps up with the news.
The November 2012 New York edition of Haute Living magazine, is on newsstands now and available digitally at http://www.hauteliving.com/magazine/new-york-october-november-2012/flipbook/
About Haute Living.com
The Haute Living website is the premier go-to for information on all things Haute around the world. With pages dedicated to 8 cosmopolitan cities, editors update readers on daily news, exclusive events, exciting openings and product releases. The Haute Living group also extends to niche luxury markets, with news about everything Haute, from yachts to interior design. The acclaimed Haute Time leads the group, providing luxury timepiece aficionados with product previews, exclusive interviews and more.
About the Haute Living Brand
Haute Living Magazine is a national luxury lifestyle magazine published in four markets—New York, Miami, Los Angeles, and San Francisco. Haute Living Magazine features the top entrepreneurs, businesspeople, and notables in each market. Haute Living Magazine also highlights the best in luxury consumer goods, culinary hot spots and events. Haute Living recently redesigned its website and re-launched its Haute Time and Haute 100 websites for state-of-the-art experiences.
For inquiries, please contact:
Seth Semilof
Publisher
t: (646) 599-2750
e: ssemilof(at)hauteliving(dot)com