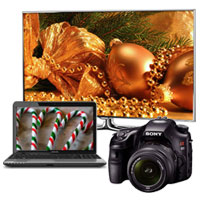 Edison, New Jersey (PRWEB) November 20, 2012
BuyDig.com, the Internet's #1 Superstore, has just unveiled its long line of Black Friday/Cyber Monday deals. These savings are aimed at helping customers to get the most bang for their buck while still enjoying the gift-giving holiday season. Some of BuyDig.com's Black Friday deals offer large discounts on premium photography gear, televisions, audio gear, and home and kitchen. Customers can also save on many of this season's stocking stuffers including games, memory cards, and tablet and smart phone accessories.
Featuring prominently among the Black Friday and Cyber Monday savings is the Canon PowerShot A4000. The PowerShot makes a great gift for the budding photographer in anyone's life. Easily affordable even for those on a tight budget this holiday season, the PowerShot A4000 offers many of the same features found in higher-end and more expensive cameras at a fraction of the cost. The Canon EOS Rebel T3 is also up for grabs during Cyber Monday. One of Canon's DSLR cameras, the Canon EOS Rebel is a great entry-level DSLR for the photographer who is making the switch from intermediate to advanced.
Not to be outdone by Canon, Nikon also has special savings on its COOLPIX line-up and Olympus has some very competitive prices on its point-and-shoots. Sony, never one to be left in the cold, has great deals on its Alpha, Cyber-shot, and NEX cameras as well. Head over to the Black Friday/Cyber Monday Promos page to learn more about the options available for photography enthusiasts this holiday season.
Cameras aren't the only thing discounted over at BuyDig.com. Tablets, eReaders, accessories, and smartphone adapters are marked down for huge savings. These gadgets make great gifts or stocking stuffers for the gadget geek in the family. For those who are always on the go and need the computing power of a desktop but the convenience of a laptop, BuyDig has also heavily discounted many of its laptops for Black Friday and beyond. And, for the music lover this holiday, BuyDig has special savings on headphones from Audio-Technica! Head over to the Black Friday Promo page to learn more. Remember to bookmark that link as it will be updated often with new chances to save!
BuyDig.com will also be offering shoppers an extended return period. Anything purchased now can be returned as late as January 15, 2013 to give customers and gift recipients the chance to ensure that they get what they truly want over the holiday. With this policy in place, there is no reason to delay getting a jumpstart on this year's holiday shopping.
Finally, in light of increased interest and demand, BuyDig.com is proud to announce the opening of its new wireless store! Get the perfect Android smartphone for the holidays with great savings from BuyDig. These phones come with plans offered by a wide array of nationwide carriers including Verizon, T-Mobile, and Sprint. As smartphones become more and more common and the Internet and telecommunications network offer more and more services to them, now is not the time to hold back – especially when buying today could help the budget-conscious shopper save more for the holidays!
About BuyDig:
BuyDig.com (http://www.buydig.com) is a family-owned and operated online retailer based in Edison, New Jersey. Founded in 1983 under its parent company, Beach Trading Co. Specializing in selling digital cameras, electronics, computers, tablets, audio/video, home and garden, kitchenware and more, BuyDig has worked to become the internet's #1 electronics superstore. BuyDig partners with many of the major CE manufacturers such as Canon, Samsung, Sony, HP, SanDisk, Garmin, Pyle, and Toshiba to make consumer technology and electronics affordable and available to the widest market possible. BuyDig also offers free shipping on most products as well as a 45-day return policy on items purchased from their store. By combining legendary customer service with a philosophy of providing more for less, BuyDig.com has earned its reputation as the premier destination for consumer electronics.