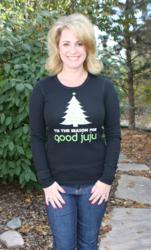 Tis the season for Good Juju.
Littleton, CO (PRWEB) November 21, 2012
Good Juju, a women-owned, Colorado-based company, has officially launched its online retail store at http://www.goodjujucompany.com. The company sells a line of apparel in hopes of spreading positivity throughout the country. Good Juju's merchandise features the symbol of good juju, which represents the law of attraction and the idea that "like attracts like." Good Juju's founders, Debbie West and Patricia Robb, believe that if one thinks and spreads positivity to others, they will attract more of the same, which in turn spreads exponentially and benefits everyone.
Good Juju's first random act of kindness, which West and Robb will be undertaking on an ongoing basis, is to give free Good Juju T-shirts to shoppers on Black Friday. West and Robb will visit busy malls to give away shirts to unsuspecting people, selecting lucky individuals based on their display of kindness.
"If we see someone being nice to others on a day that is typically chaotic, and frankly downright rude at times, we want to recognize their efforts with a token of Good Juju," says company co-founder Debbie West. "What better gift to give this holiday season than the gift of Good Juju. Everyone wants it, and let's face it, some people really need it. Good Juju is one gift that the receiver will not want to return after the holidays."
"People need a reason to smile. There is so much negativity in our world right now and Good Juju is poised to help change that attitude one shirt at a time," says company co-founder Patricia Robb. "We believe this holiday season is a great time to start spreading Good Juju and reminding others that their thoughts and actions can have an enormous affect on those around them. It's important that we all strive to be positive and good to each other."
Good Juju primarily sells T-shirts, hoodies, hats and bags and products range in price from $8 - $40. All designs feature the Good Juju name and symbol.
About Good Juju:
Good Juju was founded by Patricia Robb and Debbie West to spread good juju as far and to as many people as possible. The company is located in Littleton, Colorado and Good Juju products are sold online. You can also visit the company on Facebook.