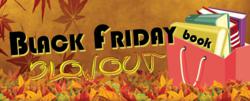 This is just a small way we can give back to you, the reader. We're your biggest fans, after all.
Leesburg, VA (PRWEB) November 20, 2012
Curiosity Quills Press, an innovative publishing house based out of Leesburg, Virginia, has a lot to be thankful for this year. As a way of showing their gratitude, the CQ team is proud to announce a very special Black Friday Book Blowout for this Thanksgiving Day shopping season.
All Curiosity Quills Press electronic titles will be marked down to just $0.99, with the special pricing available across major online retailers from November 21 through the subsequent Sunday of November 25.
From an ever-growing catalogue of spectacular works of fiction, to a solid reader base, the CQ team has many reasons for feeling privileged to be a part of the changing face of publishing in this day and age. Eugene Teplitsky, managing partner and technological mind behind the press' operations, has this to say about the Blowout: "This is just a small way we can give back to you, the reader. We're your biggest fans, after all. Making our titles available for less than a buck is something I am confident will be welcome amidst all those expensive holiday shopping sprees."
Titles participating in the Blowout include works that appeal to a broad range of reader age- and interest-groups. Several recent releases include:
General Trade Audience titles:

Mike Robinson's The Green-Eyed Monster combines a detective story untangling a mysterious murder, with creepy, horror-infused storylines demonstrating the victim's and his killer's entangled powers over reality.
Nina Post's hilarious Last Donut Shop of the Apocalypse, follows the post-apocalyptic bounty-hunter-turned-condo-manager, Kelly Driscoll, as she wheels and deals with angels, demons, and more to keep the last remaining condo building still standing and keep another apocalypse at bay.
Randy Attwood's Blow Up the Roses is a gritty mystery showing how the vilest of evils can infest a seemingly normal cul d'sac, and that every closet has (at least one) skeleton.
Rod Kierkegaard, Jr.'s Wet Dream plunges readers into a futuristic detective pulp novel with twists to spare, while staying true as a tongue-in-cheek satire of the porn industry; that is, until things get really wild!
K.H. Koehler, author of the popular Mrs.McGillycuddy steampunk vampire novels, strikes back with a brand new quirky urban fantasy series following a its clever, sarcastic hero as he matches wits with angels, colludes with devils, and battles false gods in The Devil You Know (Nick Englebrecht, No. 1).
Michael Shean's new cyberpunk dystopian novel, Bone Wires, follows a jaded detective on the hunt for the elusive and deadly "Spine Thief" in this companion piece to his debut Shadow of a Dead Star.
Nathan L. Yocum's cinematic narrative style makes a comeback in his second CQ novel, the steampunk mystery - Automatic Woman - in which a thief-catcher races to capture a rogue clockwork ballerina and discover its bloody secrets.
Young Adult / New Adult titles:
Jessa Russo's debut hit, Ever, serves up a very different take on eternal love, with some of the most memorable ghostly characters we've ever met in this urban fantasy romance.
Krystal Wade completes her Darkness Falls urban fantasy trilogy with the last book of the series, Wilde's Meadow, seeing the conclusion of Katriona Wilde's struggle against the God of Darkness, and the high - often tragic - price of peace.
A.K. Morgen's Fade turns the werewolf romance genre on its ear with the intertwining of Norse mythology throughout this urban fantasy romance debut.
Michael Panush, author of the outstanding Stein & Candle Detective Agency series, is back with another pulpy franchise - El Mosaico, Vol. 1: Scarred Souls. Follow Clayton Cane, a "patchwork man" put together through dark voodoo and evil science, as he outwits and outguns his way through the Weird West of Civil War times.
Lisa Collicutt's The Gathering Darkness takes a Celtic view of Witchcraft, past lives, and paranormal romance adventures in modern times and beyond.
The Black Friday Blowout will also include all previously published CQ titles as well.
"Skip that new video game," proposes Eugene, "and read a book instead!"
###########
About Curiosity Quills Press
Curiosity Quills Press (http://curiosityquills.com/), launched its independent publishing imprint in June, 2011 by writers, for writers, out of a common frustration with the state of publishing today. Instead of relying on readers to sift through the so-called "Amazon slush-pile", CQ presents a uniformly top-notch level of quality, tastefully curated, hard-hitting storylines, and memorable characters readers won't forget amidst their Kindle downloading sprees.
We know it's hard to stand out from the crowd when it's millions large, but Curiosity Quills Press helps level the playing field through its members' innovative social media approach, a transparent culture, and a deeply passionate team.