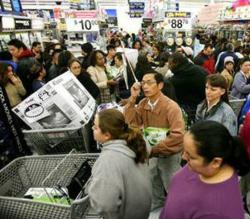 New York, NY (PRWEB) November 20, 2012
Black Friday will be here in 2 days...
The Amazon Black Friday 2012 discount sale has started at a frantic pace on Monday morning and is expected to serve thousands of avid shoppers looking for great Black Friday deals the whole week!
Online shopping giant Amazon.com has released their Black Friday Deals Week guide that features endless products and and popular brands for both home and office. Individuals looking to score what they believe are "bargains of a lifetime" can dive head on and scout for electronics, furniture, appliances, music deals and the ever-popular video games.
Besides their signature product "Kindle", Amazon.com is also offering amazing deals and discounts on Big Screen HDTVs, SanDisk Solid State Drives, Swiss Watches, Cameras, Tools, Speakers, Blu-ray players and a whole lot more. Here's a glimpse of some discounts on offer:
20% Off or More:
Desktops
Tablets
Monitors
Laptops
30% Off or More:
Gaming Accessories
Keyboards
Webcams
Graphics Cards
40% Off or More:
External Hard Drives
iPad Cases
Laptop Backpacks & Bags
Routers
50% Off or More:
USB Flash Drives
Solid-State Drives
Flash Memory
Mice
The New Lightning Deals:
Another thing that Black Friday shoppers need to watch out for are the time-limited discounts with Amazon's Lightning Deal. Amazon.com is offering amazing deals for each customer and it is open for the duration of the promo period and while the said items are still in stock.
Why Shop at Amazon.com?
Black Friday is fast gaining reputation as a shopping holiday in the United States. The annual event is a retail paradise where items are sold as cheaply as possible and sellers make profit through the sheer volume of items sold. Unlike other stores though, Amazon.com does not only mark down high-ticket or in-demand items. Even everyday products and items are on sale and there are plenty of freebies thrown in as well.
Amazon.com also wants to give shoppers more choices, opportunities, and time to shop so they started the Amazon.com Black Friday sale earlier than usual. Limited items are expected to go fast, but Amazon.com posts new deals and big discounts on their site on a regular basis.
Amazon.com Black Friday Shopping spells convenience
The majority of Americans do bulk of their shopping during Black Friday and it used to be a normal sight to see thousands lined up in front of stores and outlets hours before the sales begin. This is a fun tradition that is fast becoming outdated because of the advent of online shopping sites like Amazon.com
The advantage of Black Friday shopping online via Amazon.com is that shoppers never have to leave the comforts of their homes to get great deals on favored items. This is not only time and money saved but also translates to more time spent with family and loved ones after the Thanksgiving celebrations. Items bought from Amazon.com's Black Friday sale are delivered free of charge and shoppers are still protected by the store returns policy.
Smart shoppers need to continually check for all the best Black Friday sales and deals from all online retailers. Find Walmart Black Friday Deals, Amazon.com Black Friday Deal of the Day, Target Black Friday Deals and Kohls Black Friday Deals.