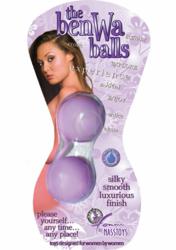 what the heck is a ben wa ball?
(PRWEB) November 21, 2012
What the heck is a Ben Wa ball? These small, spherical balls can enhance sexual experiences as well as strengthen the Kegel muscle. When women practice Kegel exercises, orgasms can be more intense and more pleasurable. However, Ben Wa balls can also be used as a sexual toy. Ben Wa Balls come in a variety of sizes and materials. Some are metal and naturally weighted while others are plastic with metal ball bearings inside. Some come attached with a silicone or nylon cord for easy removal. Given their size and bright or metallic coloring, Ben Wa balls would not look out of place in the cat toy aisle of a pet store. Let's review both Pros and Cons.
Pros:
Exercising with Ben Wa Balls can help strengthen the Kegel muscle and the Pubococcygeus muscle. This can help with incontinence. Strengthening the Kegel muscle provides women with the ability to tighten vaginal muscles which enhances orgasms. Some women enjoy the pleasure provided in the movement of the Ben Wa Balls while carrying them around throughout the day.
Cons:
Just as some women enjoy the movement of the Ben Wa balls, others are uncomfortable when sitting with the Ben Wa Balls. Hygiene becomes very important and should be a concern when choosing the balls. If women do not clean the Ben Wa balls properly, the result could be a painful vaginal infection. Cleaning the Ben Wa Balls is extremely important.
Adult Sex Toy stores like OurPleasureBox.com provide a great selection of these spherical miracles.