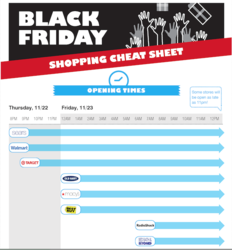 We've got a quick glimpse at the most important Black Friday information to help you catch up.
San Francisco, CA (PRWEB) November 21, 2012
NerdWallet, an unbiased financial literacy site, is helping consumers make their shopping experience productive with a new Black Friday infographic that pinpoints what to buy and what not to buy. By now all the major Black Friday ad scans have been released, and shoppers are already starting to camp out.
If you've found yourself busy this Thanksgiving season, and haven't had a chance to fully prep for Black Friday, relax and let the nerds take care of business. NerdWallet's Black Friday cheat sheet lists out store opening times, freebies, apps to take advantage of and more.
The infographic includes important keys to Black Friday 2012 such as what aisles consumers should steer clear of and which items are priced the lowest this holiday season.
To view or embed the Black Friday cheat sheet infographic on your site, visit NerdWallet Shopping.
About NerdWallet
NerdWallet, one of the nation's premier personal finance sites, helps its users save money and time finding credit cards, coupons and deposit rates online. NerdWallet was rated Money Magazine's best credit card site in 2010 and has been featured in The New York Times, Forbes and by consumer advocate Clark Howard. It currently tracks more than 1,700 credit cards, offering personalized advice for savers, students, jetsetters and more.