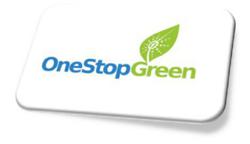 Houston, TX (PRWEB) November 20, 2012
One Stop Green, an online retailer for energy efficient products for homes and businesses announced its holiday specials today. In addition to special Black Friday and Cyber Monday deals, One Stop Green will also be hosting contests to give away other popular products on their Facebook page.
Starting Black Friday, One Stop Green will offer Free Shipping through its Amazon store and website. On Black Friday only, the OneStopGreen.com Residential Site will offer EarthMate CFL light bulbs for only 99 cents a bulb (limit 5 per customer). Other Black Friday specials include One Stop Green's popular Resource Revival products, the bicycle chain frames, bicycle chain bowls, and bicycle part clocks that will be discounted 25% with Free Shipping! On Cyber Monday, OneStopGreen.com will be offering USBCELL batteries that can re-charge via any USB port for 50% off! On Christmas Day, the revolutionary UFO Power Center will be 25% off, helping consumers reduce energy costs in any home. On Black Friday and Cyber Monday also look for product giveaways on One Stop Green's facebook page as users who share their favorite holiday tips will automatically be entered in to win free eco-friendly products!
One Stop Green, LLC facilitates environmentally friendly improvements to residential and commercial properties through distribution of green, energy efficient products and services. Their goal is to provide practical, long-term, and economical solutions for existing and non-existing facilities while remaining dedicated to the principles of sustainability. One Stop Green's mission is to help consumers take control of their energy options so they can reduce their carbon footprint and do their part for the environment, while protecting themselves against rising energy costs and taking advantage of valuable Federal tax credits and deductions.
Contact Nathan Kaufman
http://www.OneStopGreen.com
P: 877.449.9110|O: 713.541.2739|C: 210.846.5900
###