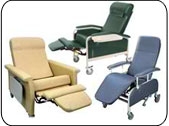 Lumex medical recliners have a well deserved reputation for quality, and durability that is second to none.
West Palm Beach, Florida (PRWEB) November 22, 2012
There have been major changes in the health care industry due to the increase in the number of people seeking quality care. One of the companies that has adapted to these changes is Cristia Medical Supply, Inc. They have been working very closely with others in their industry to bring to market innovative products that solve a number of problems for both patients, and providers of care. They have managed to do this while also maintaining their commitment to customer satisfaction, and low prices.
Part of the Cristia Medical Supply, Inc. expansion includes a strategic partnership with GF health, a national and well known manufacturer of various healthcare products. With the strong partnership between these two companies, providers of care can expect to see more value added products and services available. Cristia Medical Supply, Inc. is well aware of the rush in additional patients and increasing challenges in the healthcare field, which is why they are working their way towards solutions tailored to meet the demands of healthcare providers from large to small.
Cristia Medical Supply, Inc. Is constantly discovering new and innovative ways to meet the needs of consumers by paying attention to their comments, and request. Maintaining this close relationship with customers is how they have been able to gain an insight to what people want, and to what their concerns are. They found that a common concern among many buyers in the healthcare field has continued to be the difficulty associated with locating quality medical recliners. After looking into the matter, Cristia Medical Supply, Inc. found that most companies offering medical recliners, where either priced too high, had a very limited selection, or charged very high rates for freight. "This was a clear opportunity to do things better than the other guys, and provide our customers with a value on medical recliners that had not been seen before" sated CEO Cristopher Cristia.
The partnership with GF health could not have come at a better time as GF health is the manufacturer for the Lumex brand of medical recliners. Lumex medical recliners has been a trusted brand in major healthcare facilities for over 50 years. They provide customers with a selection of medical recliners that no other company has been able to match with well over 100 different medical recliner chairs to choose from. The quality of the Lumex medical recliner is another testament to the ability of GF health to produce only the highest quality healthcare products. The reviews from users of Lumex medical recliners is something the company can be very proud of. They have received 5 starts across the board is all areas.
Cristia Medical Supply, Inc. completed the phasing in of all the Lumex medical recliners this year, and is now offering the complete line on their website where they distribute and market over 50,000 medical products. The Lumex brand of medical recliners are listed along side the brand of Winco medical recliners, another well known and respected brand. Customers can now conveniently and easily order from their website and choose from an array of colors, and recliner types. All Lumex medical recliners come with Perpablaock technology an advanced vinyl protective coating engineered to create a tough effective barrier against the three biggest problems encountered in healthcare environments – germs, abrasion, and stains. You can't feel it or see it, but the per Perpablaock is working behind the scenes to protect patients from germs, and ensure the durably of the medical recliner. Value added features are also available for those with special needs such as reduced armrest and seat height enabling patients to fit under dining/activity tables. Flip out trays, extra fire retardant protection such as the California 133 Flammability Standards option are all additional features that can be added to any Lumex medical recliner.
About the companies:
GF Health Products Inc. is headquartered in Atlanta and is one of the largest manufacturers of healthcare products in the United States. They serve nearly 4,000 facilities, institutions, and healthcare establishments in the United States. GF Health Products, Inc. has worked behind great brand names such as Everest & Jennings, Basic American, John Bunn, Labtron, Grafco, and Lemux.
Cristia Medical Supply, Inc is a distinguished supplier of medical products operating is the Untied States. They provide approximately 50,000 medical products that serve thousands of home care facilities, hospitals, rehab centers, and other medical institutions. Cristia Medical Supply, Inc. Has a proven track record of providing it's clients with quality, and customer focused service.