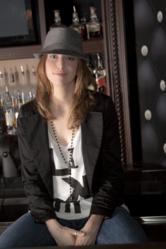 I coined the spa menu 'Booze and Taboos.' My way of throwing the taboos of the massage industry back in everyone's face.
Scottsdale, AZ (PRWEB) November 27, 2012
"I had no idea I was going to open a spa. I just walked into the space and it hit me. A male concept spa. Ideas flowed and after that I never looked back."
In the midst of 'Bar City' in Old Town Scottsdale, there's a spa called Simplicity. Aesthetically designed for men, with male input & centered around a product line called RAW; the ultimate in men's skincare, that even us ladies can't keep our hands off of. A spa made for men, but welcoming to all.
"I wanted to take the treatments back to the source, the basics. Old school proven methods. No fluff, just hands on. All about the ingredients. It was about creating something unique. No traditional menu allowed. Different was always the key term. I coined the spa menu 'Booze and Taboos.' My way of throwing the taboos of the massage industry back in everyone's face. I wanted to make it something new to talk about, a conversation starter with a comedic twist."
The RAW line contains boozy elements of Blue Agave Tequila Extract and Sake; and with treatments such as 'The Quickie,' 'What a Prick' and 'The Sake Bomb,' as the menu states, it's "A Seriously Happy Ending."
Simplicity supports and features the works of local male artists: Sebastien Millon, Doug Benchik and Dean Farrell; including male classics in music, such as: Frank Sinatra and Johnny Cash. Not like the usual "soundscapes" you hear in almost every other spa in town. This upscale mancave also hosts monthly events, featured therapies and more.
About Stacey Grondahl
Aesthetician, Laser Technician & Massage Therapist.
Creator & Mastermind behind Simplicity ~ Simple Skincare for Men (& WoMen).
RAW Skincare for Men Representative & Assistant for Louisa Alten, Senior Educator & Southwest Representative for Rhonda Allison.
The story behind the science ~ RAW, Skincare for Men
Raw has been formulated specifically for men using the best of nature and science. We have brought in all-important earthy, organic minerals and plants and partnered them with cutting edge bio-tech ingredients for the ultimate in skin rejuvenation. A man's skin is generally thicker, more sensitive and produces more sebum (oil) than a woman's. Your pH is also more acidic. The RAW commitment is to address all of your skin needs. Your commitment is the daily RAW METHOD.
To learn more about Simplicity and the Method behind the madness, please contact:
Stacey Grondahl, Owner/Creator
4375 N. 75th St., Scottsdale, AZ 85251
(661) 472-0492 (480) 686-8538