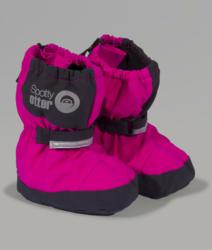 A practical gift is probably worth twice as much as something in a fancy box
(PRWEB) November 24, 2012
Doting grandparents, aunties and uncles stuck for Christmas present ideas this December could do a far lot worse than invest in some warm winter thermal gear for their active grandchildren, nieces and nephews.
Not only would a present such as the Spotty Otter waterproof fleece-lined patrol booties make toddlers and children very happy by ensuring they will go around all day with warm tootsies, but it'll delight mum and dad too.
At £23.95 the booties would make a perfect gift. But they are not the only excellent Christmas present option being snapped up at the online portal. There's also plenty of stocking fillers such as the sweet Hatley winter birds polar fleece hat and mitts set which is available in three sizes from ages two up to seven.
Kidorable are living up to their name and have introduced to the market some fantastic mitten, hat and scarf sets, such as their new knitwear range featuring a collection of different insect and animal themes such as bees, butterflies and frogs. One of the most popular sets is the butterfly gloves which have a winged creature on the tip of each finger – guaranteed to keep fiddly little ones amused at all times.
"We've actually had quite a few enquiries from would-be gift buyers asking us if we could recommend any children's stocking fillers," said Wellies and Worms owner Graham Cox. "I think with the impact of the recession people want to buy sensible gifts for others and presents which they believe are going to help families out. Let's face it; everyone is feeling the strain these days so a practical gift is probably worth twice as much as something in a fancy box which can sometimes end up broken by Boxing Day."
Talking of practical, the Kidorable knitted frog gloves (complete with tongue) would double as fine pair of puppets, in addition to keeping a little one's hands dry and warm.
Those fortunate enough to have a new-born to buy for this Christmas could take a look at the Love Embroidery Babysnuggle in candy floss fleece (or denim for a boy). This cosy all-in-one is for ages zero to six months and is perfect for the pram or wearing in a first stage car seat. The pointy hood with tassel increases the cuteness factor quite a bit.
For slightly older babies (from three months up to toddler age two) there's the super cosy micro fleece from Hatley. This has a Labrador dog motif for baby to gaze at and there's hand and feet storm flaps as well as a full-length zip. The hood is practically a given. It's 100 per cent polyester and excellent for outdoor jaunts with the little one.
Moving up the age ranges again, boy babies from six months up to toddler stage will love the dinosaur-embellished super-cosy micro fleece Dino Fleece bundler from Hatley.
Next time you're Christmas shopping on line, why not pop on over to https://welliesandworms.co.uk/