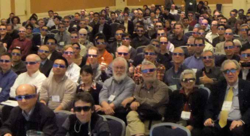 Highlights include plenary talks on information theory and signal processing, and on transforming the world's massive photo collection into visualizations of sites, cities, and people.
BELLINGHAM, Washington, USA (PRWEB) November 21, 2012
International experts in 3D imaging, digital photography, multimedia processing, mobile displays, computer vision, and related fields will present their latest findings on the 25th anniversary of the IS&T/SPIE Electronic Imaging Science and Technology Symposium in Burlingame, California. The meeting will be held 3-7 February at the Hyatt Regency San Francisco Airport Hotel.
The program includes approximately 800 presentations organized into 23 technical conferences on topics in 3D imaging, interaction, and metrology; visualization, perception, and color; image processing; image capture; computer vision; media processing and communication; and mobile imaging.
Event highlights include:

2 plenary talks, on information theory and signal processing, by Sabine Süsstrunk, École Polytechnique Fédérale de Lausanne; and on transforming the world's massive, unorganized photo collection into reconstructions and visualizations of the world's sites, cities, and people, by Steven Seitz, University of Washington
The popular 3D Theatre, featuring new, original 3D footage from around the world, as part of the Stereoscopic Displays and Applications conference
A demonstration and evening panel discussion on lessons learned by the video team who recorded the Red Bull Stratos Project "space dive"
A panel discussion moderated by Bernd Girod, Stanford University, on how technology is transforming higher education around the globe
18 educational courses on fundamental and current topics on digital imaging systems, image processing, analysis, displays, and more
A symposium-wide keynote track including 10 featured talks such as "World, environment, umwelt, and innerworld: a biological perspective on visual awareness," by Jan Koenderink, Technische Universiteit Delft, and "The future of mobile imaging," Edward Delp, Purdue University
Highlighted talks from articles recently published in the Journal of Electronic Imaging
An interactive, hands-on demonstration session showcasing the latest hardware, software, imaging and display products.
Guarav Sharma, University of Rochester, is symposium chair, and Sergio Goma of Qualcomm, is symposium co-chair. Choon-Woo Kim of Inha University chairs the short course program.
Conference proceedings papers will be published individually in the SPIE Digital Library as soon as approved after the meeting, and also in collected print and digital volumes.
The Society for Imaging Science and Technology (IS&T) is an international non-profit dedicated to keeping members and others apprised of the latest developments in fields related to imaging science through conferences, educational programs, publications, and its website. IS&T encompasses all aspects of imaging, with particular emphasis on digital printing, electronic imaging, color science, photofinishing, image preservation, silver halide, pre-press technology, and hybrid imaging systems.
SPIE is the international society for optics and photonics, a not-for-profit organization founded in 1955 to advance light-based technologies. The Society serves nearly 225,000 constituents from approximately 150 countries, offering conferences, continuing education, books, journals, and a digital library in support of interdisciplinary information exchange, professional growth, and patent precedent. SPIE provided over $2.7 million in support of education and outreach programs in 2011.