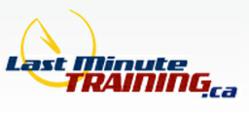 Toronto, ON. (PRWEB) November 21, 2012
In a world of ever-evolving technological advancements, the need to stay current and keep up with IT trends has never been more imperative for business and personal growth. Staying relevant and maintaining a competitive edge amongst your peers & competitors is essential for overall success. However, doing so is often easier said than done. Going back to school is not a feasible option for many, and the rate at which IT trends are changing can make it quite difficult for one to get ahead of the curve.
Last Minute Training is an Ontario-based IT training provider that offers solutions to these all too common problems. With the fast-paced world we live in, where no one seems to have time for additional education, Last Minute Training caters to individuals looking to brush up on their IT skills in both a convenient and affordable manner. While IT training courses can be quite pricey, Last Minute Training is exactly what its name says; it provides individuals with quality and up-to-date IT courses to improve their skills at a last minute fraction of the original cost. The notion behind Last Minute Training is that there are a plethora of courses available at different dates and times that may not always be completely booked up. This excess participant capacity leaves room for those individuals who are interested in boosting their IT knowledge to occupy these empty seats and receive high quality training at an average discounted rate of between 20% and 50% off.
There are many advantages to taking a course with Last Minute Training. Be it for personal interest and skill development, or to advance one's IT career by keeping up with the evolving technology, Last Minute Training offers seminars in over 800 categories. This means that whether you're looking to brush up on software knowledge, or simply improve communication skills, the diverse range of available training courses offered by Last Minute Training caters to persons of various specialties and occupations.
Many IT companies (particularly small to mid-sized businesses) are taking advantage of Last Minute Training's quality courses by enrolling their employees in educational seminars that will benefit both the individual and the company while keeping within a budget. In order to stay competitive in today's IT world, companies must ensure that their employees have up-to-date knowledge of the current industry. However, finding good training for a large group of employees can be both time-consuming and costly. This is because employers not only have to cover the cost of training and wages, but must also experience the loss in productivity that is associated with having employees attending training courses. This is what makes Last Minute Training courses such an attractive option for small to mid-sized companies. Training is an essential component of any company, but particularly an IT one due to the ever-changing landscape and trends associated with today's modern world. By catering to small and medium-sized businesses, Last Minute Training offers the unique opportunity for employees to stay current and relevant through high-quality training at an affordable price.
Last Minute Training also allows users to create personal "training wish lists" by selecting courses they'd be interested in taking at a later date. When a course that matches the users' indicated preferences becomes available, Last Minute Training alerts the individual, giving he or she the opportunity to enroll in that course at its discounted rate.
About:
Last Minute Training provides the opportunity for North America's premier training suppliers to sell their excess participant capacity on a last minute, discount basis to our members. For more information, visit http://www.lastminutetraining.ca