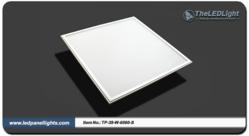 (PRWEB) November 21, 2012
Recently, The LED Light (China), a professional manufacturer and wholesaler of LED products, released its latest LED panel light product, TP-39-W-6060-S, and the market response is unbelievable good. Now, they are launching a promotion of this new product, from Nov. 19 to Nov. 30, 2012. All the old and new customers can get a discount, up to 20% off.
Compared with other products' maximum 70 to 80lm/w, TP-39-W-6060-S's 91.43 lm/w is a shinning star anywhere in the LED industry, because high luminous efficiency always means energy saving. What's more important, TP-39-W-6060-S can improve the lighting effect obviously, from single dull to elegant and upscale.
Brain, an LED distributor from London, said, "It is really a great news to know the new product's promotion. We have paid much attention to this new product, TP-39-W-6060-S. We started to cooperate with this company five years ago, and we have got many positive responses from our customers. Their product quality is reliable. This new product, TP-39-W-6060-S, will be a stimulator for our business, and we are ready for the Christmas' promotion."
"The Black Friday and Christmas are coming, and it is always golden time for our LED Panel business, because there will be a huge demand in this period. We offer all customers with quality LED products at unbelievable wholesale prices, and hope they can make much more money in future." Said, Afanso Yang, CEO of The LED Light (China).
About The LED Light (China) Co., Limited
Founded in 2005, The LED Light (China) Co., Limited is a professional manufacturer of LED products, and its 99% LED light panel products were exported to Europe and America in the past eight years. The company has been hailed as the most reliable LED accessory wholesaler by distributors and well popular among customers by virtue of good services.
More information about LED panel lights can be found at: http://www.ledpanellights.com/