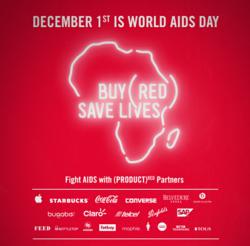 "We are proud to join hands with (RED) in its mission and could not think of a better way to have our iconic lifestyle product touch the world," said Paula Masters, President and Managing Director at Fatboy USA.
Dallas, Texas (PRWEB) November 21, 2012
Fatboy® USA, a leading trendsetter in lifestyle products, is proud to announce a new partnership with (RED)TM and a new Fatboy® (PRODUCT)RED Special Edition collection launching on World AIDS Day, December 1, 2012. Fatboy USA is joining some of the world's most iconic brands including Apple, Coca-Cola, Starbucks, Converse and more as they partner with (RED) to help bring people into the global fight against AIDS.
Fatboy USA is releasing two new Special Edition (RED) products; the iconic Fatboy® original lounge chair which retails for $239USD and the Fatboy® waynecooler beverage holder which retails for $24USD. Fatboy USA will contribute 10% of the proceeds from every Fatboy® (PRODUCT)RED purchase to the Global Fund to fight AIDS.
"It is an honor to partner with (RED) and have the opportunity to contribute to the fight against aids," said Paula Masters, President and Managing Director at Fatboy USA. "We are proud to join hands with (RED) in its mission and could not think of a better way to have our iconic lifestyle product touch the world."
In further celebration of World AIDS Day, Tiësto, named "the greatest DJ of all time" by Mixmag, is releasing an exclusive compilation album, DANCE (RED), SAVE LIVES, on November 27th, followed by a global livestream from Melbourne's Stereosonic Festival over the World AIDS Day weekend. The livestream will be available at http://www.youtube.com/joinred throughout Dec 1st and 2nd.
The Standard hotels will see a series of dance parties across The Standard properties, celebrating World AIDS Day and Tiësto's new compilation album, DANCE (RED), SAVE LIVES. On December 1st there will be a special dance party at The Standard High Line in New York City which will include Fatboy's lifestyle products to help set the scene. In Los Angeles, The Standard Hollywood will host a dance party in the hotel's club, Mmhmmm, featuring a number of LA's favorite DJs, while The Standard Downtown will host a live rooftop performance followed by an exclusive DJ set. The Standard Miami will have a yoga class with a difference, incorporating dance music into the session, followed by a sunset cocktail party on the dock.
Deborah Dugan, (RED) , CEO, said; "(RED) and its partners are proud to have delivered $200 million so far to the fight against AIDS and we're pleased to welcome new partners to the (RED) family. The more people and brands we can engage in this fight, the closer we get to the promise of an AIDS free generation by 2015. We're grateful to all our partners and supporters who raise awareness and funds for this critical goal."
To mark World AIDS Day around the globe, many of the world's most iconic buildings and best known landmarks will turn (RED) on December 1st. Among those showing support for the fight against AIDS are the Sydney Opera House, AAMI Stadium and The Arts Centre Spire in Melbourne, The EDF Energy London Eye, Cape Town's Table Mountain, Toronto's CN Tower, the Ponte Vecchio and Palazzo Vecchio in Florence, Dublin's Christchurch Cathedral and The Soumaya Museum in Mexico City.
In addition, New York's Empire State Building and Times Square's NASDAQ Marketsite Tower and The Standard, High Line, City Hall in San Francisco, The Wrigley Building in Chicago, City Hall in Atlanta, City Hall and War Memorial Plaza (promenade) in Baltimore, over 15 buildings in Providence, including G-TECH and the Rhode Island State House and the Pylons at LAX Airport will also all turn (RED).
The (FATBOY)RED products will debut on Gilt's (PRODUCT) RED online boutique on December 1st. Following the launch, they will be available at fatboyusa.com on December 3rd, and in-stores from mid-December.
About Fatboy®
Fatboy is an imaginative lifestyle brand that excels in thinking outside the box. Fatboy® has been challenging the concepts of lifestyle product since 2002, when it set out to create the perfect lounge chair— designed for fashion, for comfort, and tailored for an unmatched lounging experience. Today, Fatboy® brings energizing comfort and smiles to people in over sixty countries worldwide with a growing line of lifestyle products. Wrap yourself in the Fatboy® brand experience and share the legacy by visiting fatboyusa.com and http://www.facebook.com/FatboyUSA.
About (RED)™
(RED) was founded in 2006 by Bono and Bobby Shriver to engage businesses and people in the fight against AIDS.
(RED) partners with the world's most iconic brands who contribute up to 50% of profits from (RED) branded goods and services to the Global Fund. (RED) Proud Partners include: Apple, Starbucks, Converse, The Coca-Cola Company, Beats by Dr. Dre, Belvedere, Bugaboo, Claro, Penfolds, SAP, Telcel and American Express (UK only). (RED) Special Edition partners include: Shazam, Girl Skateboards, Mophie, FEED, Nanda Home, Bottletop, Tourneau and TOUS.
To date, (RED) has generated $200 million for the Global Fund to fight AIDS, Tuberculosis and Malaria, to support HIV/AIDS grants in Ghana, Lesotho, Rwanda, South Africa, Swaziland and Zambia. 100 percent of that money goes to work on the ground – no overhead is taken. Global Fund grants that (RED) supports have impacted more than 14 million people with prevention, treatment, counseling, HIV testing and care services.
(RED) has led several high-profile initiatives to raise awareness and funds for HIV/AIDS related issues including (PRODUCT)RED, THE AIDS FREE GENERATION IS DUE IN 2015 campaign and most recently, the (RED)RUSH TO ZERO campaign.
(RED) is a division of The ONE Campaign. Learn more at http://www.joinred.com.
About The Global Fund to Fight AIDS, Tuberculosis and Malaria
The Global Fund is a unique, public-private partnership and international financing institution dedicated to attracting and disbursing additional resources to prevent and treat HIV and AIDS, TB and malaria. This partnership between governments, civil society, the private sector and affected communities represents an innovative approach to international health financing. The Global Fund's model is based on the concepts of country ownership and performance-based funding, which means that people in countries implement their own programs based on their priorities and the Global Fund provides financing on the condition that verifiable results are achieved.
Since its creation in 2002, the Global Fund has become the main financier of programs to fight AIDS, TB and malaria, with approved funding of US$ 23 billion for more than 1,000 programs in 151 countries (as of mid-2012). To date, programs supported by the Global Fund are providing AIDS treatment for 3.6 million people, anti-tuberculosis treatment for 9.3 million people and 270 million insecticide-treated nets for the prevention of malaria. The Global Fund works in close collaboration with other bilateral and multilateral organizations to supplement existing efforts in dealing with the three diseases.