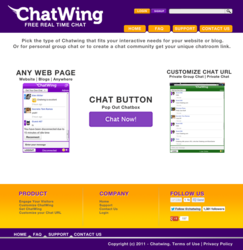 Dallas, TX (PRWEB) November 21, 2012
Chatwing Development Team has improved its company reach by launching a free chat widget that can be used as a handy and reliable social marketing tool. According to Chatwing's core developers, the premise of website chat must be improved by tweaking a very important factor: connectivity. The latest Chatwing chat app is now faster, and also allows a wide range of customization features. Users can even add background images and song links.
Social media leverage has been one of the most important factors highlighted in Chatwing's free chat box. Chatwing's visitors can now log in with their Facebook or Twitter accounts. Following that, they can now send out invitations to each other. This is the reason why many social media marketers have started using the Chatwing chat app. Group makers have also benefited from this feature and were able to invite new members for their groups.
Chatwing's free chatbox can handle thousands of users at any point of time. With this rate of global connectivity, continuous traffic stream can now be achieved for any website. Chatwing's developers have even tweaked the efficiency of the chat platform in order to find the right speed. Social marketers, especially those who own websites, can use the Chatwing chatroom app to fuel their campaigns.
According to Chatwing's developers, the premise of website chat is one of the most important factors in social marketing. With Chatwing's free chat widget, social marketers will now have an inexpensive and reliable tool that can be used anytime. Moreover, Chatwing's medication features can create entertaining chat environments for everyone.
About Chatwing.com
Chatwing.com specializes in the new field of website chat. Over years, the Chatwing team has introduced live chat widget for hundreds and thousands of blogs. The Chatwing application bridges people from many parts of the world, creating global synergy through the Internet. The shout box can be installed in just seconds, and it can be used for varying purposes such as leisure and Internet marketing. It also allows a user to customize the size, color, and name of the widget. Chatwing is 100% free for everyone.