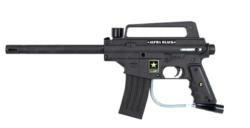 We pride ourselves on the best paintball prices online and best selection," explained Jeff Wilkinson, owner of Action Center Paintball.
Morgan, Utah (PRWEB) November 22, 2012
Action Center Paintball, a top reseller of cheap paintball guns and gear online, is introducing the Tippmann U.S. Army Alpha black Custom paintball gun. Found in their annual paintball Christmas super sale. This is one of the most popular paintball guns around, and people are really looking for the cheapest prices online. The custom option makes this amazing paintball gun affordable, just in time for Christmas gifts for paintball fans. They are on limited supply .
The U.S.Army Alpha Black as a custom product brings a cheap, affordable paintball gun into the reaches of many paintball fans. They are really excited about this special price offer. Hurry there is a limited supply
Action center also offers the U.S.Army Alpha Black with E-Grip @ $89.99
To learn more, go to
http://www.actioncenterpaintball.com/US-Army-Alpha-Black-With-E-grip.html
Paintball Gun features
Paintball guns The US Army Alpha black With Egrip Automatic Paintball gun
tippmann has teamed up with the us army
The Alpha Black Basic features a realistic military appearance and incorporates several popular upgrades, including a high-performance 11 barrel, an integrated carry handle, an all-metal receiver and a removable magazine that doubles as a tool kit. As an added benefit, Alpha Black can easily be modified to take on an M16 style stock and shroud allowing players to take the field with a new marker that mimics one of the most popular rifles in U.S. military history.
Features:
Officially licensed product of the U.S. Army
Realistic military appearance
High performance 11 inch barrel
Integrated carry handle
Removable magazine that doubles as a tool kit
In line bolt system
All aluminum die cast receiver
Stainless steel gas line
Quick release feeder elbow
Accepts Tippmann 98 barrels
Barrel sock
Squeegee
Allen keys
Oil
Owners manual
more information at
http://www.paintballguns.tv