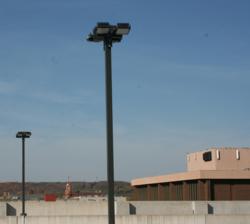 Gil Rupp of the Traverse DDA said, "Based on our experience with vandalism and Traverse City weather, our staff clearly preferred CooLED, Inc.'s vapor tight Hybra fixtures."
Traverse City, MI (PRWEB) November 28, 2012
CooLED, Inc announced that Traverse City's DDA has taken an important step in reducing its energy footprint when it authorized Windemuller contracting to convert the Larry C. Hardy parking deck with the CooLED, Inc. Hybra LED lights this last spring.
The DDA job included the replacement of 202 Metal Halide fixtures of 175 watts each with 186 new sets of three 18 Watt LED tubes and 100Watt LED Flood Lights. Installation of the new Hybra LED lights is calculated to reduce annual energy consumption by over 230,000 kWh, which will save the city $21,000 annually.
Tim Burden, President of CooLED, Inc., the master distributor for Hybra Energy Products, said: "Our patented line of Hybra lights provide a revolutionary breakthrough in outdoor LED lighting as they are vapor sealed and extremely durable. Our company offers a video where I demonstrate dropping a light multiple times and they continue to work. This protects against vandalism as well as the environmental stress that comes with outdoor lots and parking decks."
Maintenance Technician Gil Rupp of the Downtown Development Authority said that after comparison with other units, he was "sold on the Hybra four foot tube unit as the best fixture available for the Hardy deck. It offered the light quality that we need and yet is rugged enough to withstand the extreme weather we have here in Traverse City."
In making the selection of Hybra lights compared to their competitors, Rupp went on to say, "we analyzed the lighting illumination levels, the light distribution patterns, and the durability of the fixtures. Based on our experience with vandalism and Traverse City weather, our staff clearly preferred the CooLED, Inc. vapor tight Hybra fixtures."
As a contractor, Windemuller was not the lowest bidder on the project. However, the DDA maintains that when they factored in energy savings, light output, reduced maintenance costs, durability, and the warranty support provided by CooLED, competitively, Hybra lights were the winners.
CooLED Inc. is headed by President Tim Burden and based in Traverse City, Michigan. They are a master distributor for Hybra Energy products, providing LED solutions for parking lots, industrial, and commercial firms. They offer their dealers bid support, warranty, financing, pick up and environmentally friendly disposal of hazardous lights and fixtures.
CooLED Inc's office is at 3783 Rennie School Road in Traverse City, the web site is http://www.Cooledinc.com  and the local phone is 231-421-5981