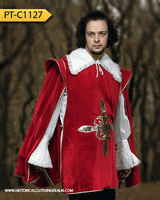 This limited time sale, which runs through Thursday November 22, 2012, entitles customers to an instant 10% discount on all items storewide. Couple this savings with the already marked down prices of 10-40% off and it is indeed something to make hearts t
(PRWEB) November 21, 2012
In reflecting on the many things to be grateful for this Thanksgiving, Historical Clothing Realm offers one more with big savings as part of a special sale. This limited time sale, which runs through Thursday November 22, 2012, entitles customers to an instant 10% discount on all items storewide. Couple this savings with the already marked down prices of 10-40% off and it is indeed something to make hearts thankful. In addition, Historical Clothing Realm is preparing a Black Friday event which promises even deeper discounts. This sale will occur on Friday November 23, 2012 after stomachs have been satisfied with turkey goodness. To get the full scoop on the Thanksgiving sale and Black Friday event, check out the store's homepage.
As the Christmas craziness begins, Historical Clothing Realm is a great place to look for that ideal holiday gift. The clothing vendor features a vast selection of historical styles with garments such as tunics, doublets, and jackets, to gowns, bodices, and chemises. Footwear, caps and crowns, and capes are also available, as well as a line of movie replicas from films like "Harry Potter" and "Star Wars". All items are high quality and historically authentic.
There are many exciting and luxurious pieces of renaissance apparel at Historical Clothing Realm and one of the most noteworthy is the Musketeer Tabard. Drawing on inspiration from French history and Alexandre Dumas' classic novel The Three Musketeers, this item is exquisitely crafted from 100% cotton velvet and captures the adventure, danger, and authority of these famous regiments. Decorated with a satin gold cross and fleur-de-lis of the musketeers on the front, along with silver trim on the edges, this piece is guaranteed to be extremely comfortable and an elegant gift.
For a beautiful and romantic look, the Gloriana Chemise is a wonderful selection to consider. The meaning of the name "Gloriana" comes from the words "glory" and "grace", which is precisely what this garment captures. This gorgeous rayon chemise boasts of a brilliant red color, a scoop neck, long sleeves decorated with strings for a ruffled look, and lace in the back. Any woman will happily embrace this article of clothing and will feel truly special.
To see the full clothing collection and start saving, visit http://www.historicalclothingrealm.com