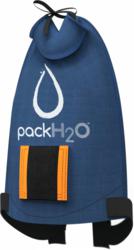 Columbus, OH (PRWEB) November 21, 2012
Distributor of an award-winning water backpack that is a safer alternative to jerry cans and buckets, PackH2O has launched a crowdsourced competition with marketing platform MediaBlastr to drive awareness of the challenges millions face every day in getting water from source to home, and to discover the company's first Digital Ambassador. The selected ambassador will support PackH2O's grassroots marketing efforts over the course of three months by creating content, managing social media campaigns and building media relationships.
"The global water crisis is a significant issue, yet few people really understand the struggle people face in trying to carry water home every day. Social media has the power to make real and lasting change. We're looking for someone to raise awareness and help improve the lives of others who don't have access to water at home." said PackH2O's Social Media Marketing Manager Kelsey Langdale.
THE PACK: The pack is a for-purpose personal water transportation backpack. It is designed to help ease the burden of carrying water from source to home and can help keep that water clean.
OFFICIAL LINK: http://ambassador.packh2o.com
The PackH2O Digital Ambassador Search is open to individuals (18 or older) in the United States who are committed to making a positive impact through social media.
WHAT PROBLEM IS THE AMBASSADOR TACKLING? One in 7 people around the globe do not have direct access to safe water – and impact of the global water crisis is growing. In water-stressed regions, women walk an average 3.5 miles every day to get water for drinking, cleaning and washing. The struggle is significant. Water is heavy to carry – and too often women transport water home in discarded jerry cans and buckets that often originally held fuels and other chemicals. This is the Achilles' heel of the global water crisis – the struggle to safely transport water from source to home.
ABOUT PACKH2O: A for-profit social entrepreneurial company, PackH2O partners with relief agencies and nonprofits to ease the burden of transporting water globally. Thousands of water backpacks are in use in Haiti and remote locations in Guatemala, Kenya, Niger and Uganda – but more help is needed. Popular Science magazine recently named the water backpack innovation to its 2012 Best of What's Next – Green award. http://www.packh2o.com
ABOUT MEDIABLASTR: MediaBlastr is a brandable social contest and online community platform. The company licenses unique digital properties and custom-develops online events. MediaBlastr powers entertainment industry network GotCast.com and has powered events for Sony PlayStation, Hautelook.com, Project Runway, VH1 and Maxim Magazine. http://www.mediablastr.com