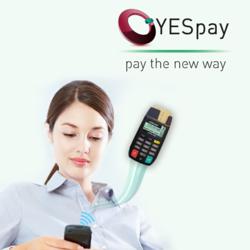 London (PRWEB UK) 21 November 2012
Today, the one thing more commonly carried than money in our society is a mobile smartphone, which is making it an ideal portable point-of-sale platform that can also support credit/debit card payments. This makes mobile selling the latest new sales channel for retailers and small businesses. Mobile Apps are fast transforming smartphones and tablets into mobile point-of-sale (POS) devices with integrated card present as well as card-not-present payments. Sometimes, simplicity is the ultimate sophistication.
EasyV-Mobile – Chip & PIN card payments for smartphones
EasyV-Mobile is both capable of performing standalone card payments as well as allowing Smartphone POS (mobile shops) Apps to integrate card payments. It is ideal for any environment in which mobile POS payment functionality is needed in the field. EasyV-Mobile is a portable card payment solution provided by YESpay. It enables merchants to process EMV Chip & PIN, and magnetic card payments via smartphones (Android/Blackberry/iPhone) bluetooth connected Chip & PIN PED, (PIN Entry Device). The solution allows PCI-DSS compliant card payments processing via smartphones using 3G or Wi-Fi connection. This means that the user can process card transactions in any environment or location so long as a mobile phone signal can be obtained.
With EasyV-Mobile, not only can a smartphone serve as a POS, it can also provide unprecedented visibility on inventory and perform payments countrywide for retailers, enabling cross-channel convergence that unites the mobile, ecommerce and brick-and-mortar worlds. Who said mobile messaging was only for communications?
One App benefits all
YESpay's EasyV-Mobile helps mobile developers integrate card payments into any Mobile POS App. It offers various benefits to merchants like:

Facilitates assisted selling for a more personal approach to in-store selling and making payments.
Increase in sales with tangible ROI
Outdoor sales at events like trade shows, exhibitions, festivals and markets
Ideal for high volume transaction environments
Fully mobile queue busting payment solution facilitates assisted selling
Payments over wireless 3G or Wi-Fi networks authorised online in less than 5 seconds
Simple to use with minimal user training
Affordable for growing mobile businesses
Enhanced checkout experience such as queue busting for consumers
About YESpay International Limited
YESpay International Ltd., a global card payments service company, provides highly secure Internet, EMV Chip & PIN, contactless and gift card payment processing services to independent and multi-chain merchants. Through EMBOSS, the YESpay Managed Payment Service, merchants can quickly accept integrated card payments within EPOS, kiosks, hospitality and e-commerce systems with minimal capital investment and low on-going services costs. EMBOSS is an on-line IP-based payment processing service that has been generically pre-accredited by major Card Acquirers in Europe and North America (including First Data Merchant Service (FDMS), Chase Paymentech, Barclaycard Business, HSBC, HBOS, Lloyds Cardnet, Streamline, Ulster Bank, Elavon, PBS, Amex and Diners). In addition, the YESpay EMBOSS service is fully end-to-end certified to Payment Card Industry Data Security Standards (PCI DSS) Level 1 as mandated by Visa and MasterCard. The YESpay EasyV-Suite of card payment products is innovative and cost-effective for EPOS, Kiosk, Hospitality, Mobile and Internet environments. With the YESpay EMBOSS card payment service, merchants can perform card payments in both card-present and card-not-present environments.
Contact details:
UK Headquarters: Checknet House, 153 East Barnet Road, Barnet, EN4 8QZ, UK | +44 - 203 - 006 – 3790
Canada Office: 116 Spadina Avenue, Suite 201, Toronto, Ontario, M5V 2K6, Canada | 1 855-YES-PAY- 1
PR Contact: Nitasha Jain, Marketing Manager, ext. 402, Nitasha.jain@yes-pay.com, marketing@yes-pay.com